In the past few weeks, we continue to come across news about small children being abducted in many parts of the country. All these references have opened an alarming state of affairs where every citizen is urged to question the credibility of law and order. In the aftermath of Zainab, there are many stories that need our attention as the whole epidemic of child abuse continues to go on.
Besides the tragic murder of Zainab, a 7-year-old girl from Kasur, many relevant stories continue to surface. It's an alarming call as to how many children continue to suffer in our society and how we have failed to protect them this entire time. We came across another story from Karachi where a man was taken into custody after being found guilty of kidnapping a 10-year-old girl with an intention to rape her. Police took him into custody and he speaks about it on media.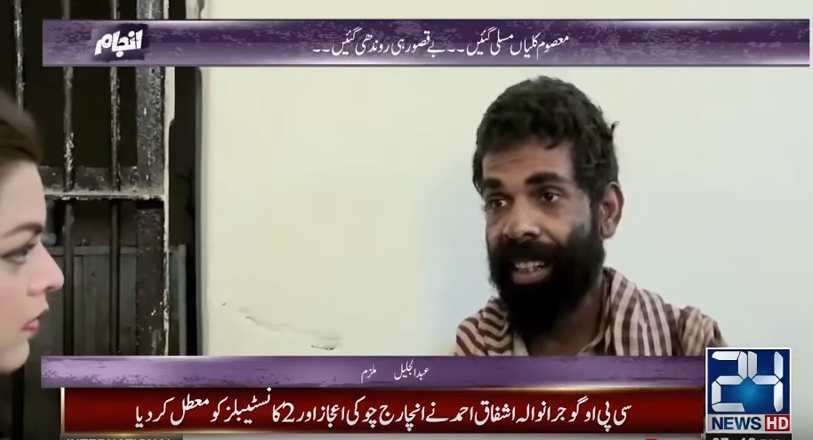 A local news channel approached this guy in order to get a word from him. It's an effort to break down the mindsets of such predators and suspects. The news reporter openly talks to the suspect about what he has been convicted of and shockingly, he takes it on a very light note. As if, it's trivial.
Watch the whole video as the man trivially talks about his actions:
It is very shocking to see how he tried to cover up things there. He does not feel remorseful at all and looks like, this man needs to be taught a good lesson. Plus, he clearly looks like he is not in the right state of mind. He appears to be a drug addict and perhaps, under the influence of the same.
On the other hand, he also tried to cover up his actions by suggesting that the little girl threw herself at him. However, the girl was smart and did not buy in. He was trying to lure her by offering biscuits and she sensed something wrong. Fortunately, the girl took charge of herself but one cannot ignore the fact how easily sexual predators are lurking in every corner.
Please take care of your children. Teach them about protecting themselves and being wary of their surroundings. Most importantly, give them your trust to speak out about it!