Indian police have arrested five brothers. Why? They allegedly had paraded a man naked in the streets. The man had to walk without clothes in punishment for a social media post.
Police said that the brothers also kidnapped the 38-year-old victim on Tuesday. They assaulted and made him walk for 45 minutes around the western town of Khambhaliya with no clothes on.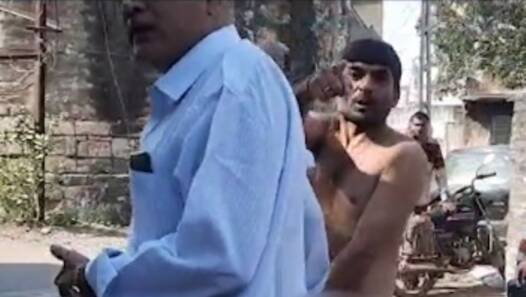 "An investigation revealed that the victim… used to do Facebook live videos on regular basis," police spokesman Hirendra Chaudhary told AFP.
"On Sunday, in a Facebook Live video (the man) made serious allegations against the five brothers. He claimed that the brother has a criminal history," Chaudhary said.
Indian police charged brothers with illegal confinement, assault, use of criminal force with intent to dishonor a person. They also added criminal conspiracy, obscenity, and other offense charges.
According to the Times of India, the victim's name was Chandu Rudach. On Sunday, five men kidnapped Rudach in a car near Sharda Cinema. They first thrashed him in the car and broke his mobile phone. Then they disrobed him in the car and started parading him from Jodhpur Naka.
WARNING: Some viewers may find the content of this video disturbing. Viewer discretion is advised.
Later in the day, police arrested the five accused – Bhala Bhojani and his brothers Kirit, Pratap, Kana, and Mansingh. Their car was also seized.
Local police said that the victim has several gambling and alcohol convictions. Both are banned in Gujarat, Indian Prime Minister Narendra Modi's home state where the incident took place.
Such incidents of street justice, also frequent in Pakistan, are highly condemnable. In 2017, armed men had paraded naked a girl in a Pakistani village. They wanted to punish her for her brother's alleged crime.
Also Read: The Real Reason Why The Woman Went Naked On The Streets In Islamabad Gives A Lesson To Everyone
What do you think of this story? Let us know in the comments section below.