Sometimes life becomes quite unfair. We come across such instances that make us completely shattered. One such instance is a breakup. Furthermore, at times, a break up with a loved one hurts us so badly that we reach the brink of ending our lives. However, there are certain people who turn every negativity into positivity. Ever heard of a man who marries himself after fiancee breaks off the engagement.
Recently, a 33-year-old man, Diogo Rabelo, who is a Brazillian marries himself after fiancee breaks off the engagement. Reportedly, Diogo Rabelo married himself in a luxurious way and at a lavish resort. Besides, it was a complete and colourful marriage with a plethora of guests. Nevertheless, the only this missing at the wedding was a bride.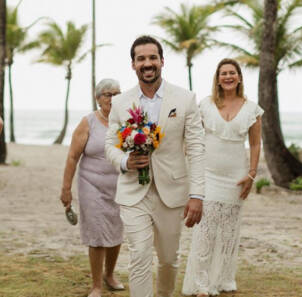 Besides, as per details, Rabelo married himself after his fiancée Vitor Bueno left him. According to details, the couple was engaged; but, in July Vitor Bueno broke off their engagement after multiple fights between the couple.
The Brazillian groom Diogo Rabelo said 'I do' to himself
Diogo never wanted to annul the wedding rather moved ahead with the program and entertained a fancy marriage party at a lavish resort in Itacare. In front of several and the mirror, he stated 'I do' to himself.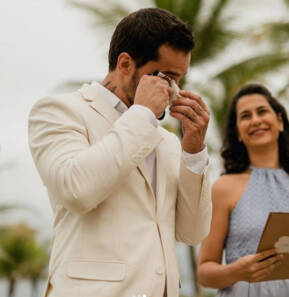 In a post on Instagram, he wrote that the dark episode in his life has shown him "that whoever wants to be with you will be."
Rabelo also shared pictures from the event including a picture of his grandmother tying a special bracelet around his wrist.
"When God made his alliance with man, he created the rainbow and in a symbolic act, my wedding ring is a colorful sapphire bracelet to remind me that my alliance is with God Creator and not with men," he penned in the caption.
Around 50 people attended this unusual marriage ceremony.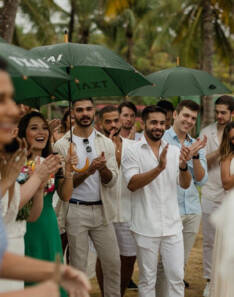 "I analysed the situation for a month and decided that I had to appreciate and love myself. I kept the ceremony and 40 of my 50 guests came," he shared.
WOW! Instead of becoming depressed, this guy really dealt with the depression after a sad heartbreak like a king, setting an example of self-love.
Also Read: 7 Things You Should Think About Before Getting Married
What do you think of this story? Let us know in the comments section below!