Over the years, we have seen several instances where people do acts of stupidity for a small amount of money. Its unfortunate that such individuals don't value their precious life. One such incident recently occurred at Drigh Road underpass, a man who jumps from 16ft just for a bet of Rs500, Karachi.
Just for a bet of Rs500, a man jumps into the rainwater beneath the underpass at Drigh Road. The video was recorded on camera in front of hundreds of individuals gathered at the underpass. The attempt is a next-level stupidity as the man just jumped off the underpass without any safety gear, just for the sake of winning Rs. 500 bet.
Now that you have seen the video, it is expected that you, too, have recognized the fact of how stupid it was! What was the sole purpose of it? Can a man really put his life at risk for such a small amount? Or for that matter, what do they really want to portray with their diving skills?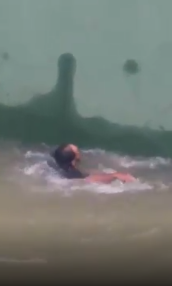 Some of the people around the guy could be seen in full praise for the crazy jump off the bridge. Others were in praise for the styling he had after he landed. However, it is important to note that such actions can have fatal consequences.
Surviving such falls is rare. Moreover, such jumpers hit the water at full speed. This could result in causing internal organs to tear apart and broken ribs to pierce their heart or lungs. Others drown or die from a combination of the two.
Heavy rainfall disrupts the life of Karachi citizens
Heavy rainfall has devastated the lives of the residents of Drigh colony. The water beneath the underpass is an evidence of the havoc the rainfall create. Several residents of this area have been exposed to urban flooding after rain lashed Karachi last week. While some areas have recovered, others seem to be on the path to recovery. In some areas, the water is still waist-high and has not receded.
In addition to this, the metropolis and its residents continue to struggle. Several houses, roads, and some underpasses are still submerged. As if this were not enough, unrelenting power outages in many localities have left them in the dark and off the grid for over 70 hours and counting.
What do you think of this story? Let us know in the comments section below!