WARNING: Some viewers may find the content of this story disturbing. Viewer discretion is advised.
As much as one would like to dismiss this notion, it is almost impossible to not acknowledge the fact that many men are surrounded by a culture that reduces women to sexualized objects, which normalizes female colleagues in a less than professional manner. A brave woman, while risking her life, got a man accused of luring needy women into illicit relationships arrested.
As it appears, there are intense issues of entitlement and power and control. More than often, these go unchecked and lead to situations where men feel it to be perfectly fine to engage in this kind of behavior.
Putting her life in danger, a woman went on a mission to get an accused arrested with substantial evidence. Apparently, this man picked up this woman from somewhere, and in the car, they have a full conversation about why she badly needs a job.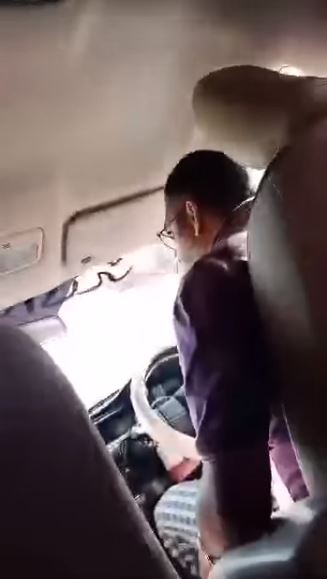 The woman puts forward all the reasons. From revealing how she has to take care of her mother as well as two kids, she made herself come off vulnerable to the man who apparently provides some kind of a job. While she explains how badly she needs the job, the man parks the car somewhere aside and jumps to the backseat.
Watch how she trapped him on camera
WARNING: Some viewers may find the content of this video disturbing. Viewer discretion is advised.
Continuing the conversation, and offering the job, the guy tries to lure her into an illicit relationship. While telling her that her job would only be to satisfy him, the sickening man begins jerking off right next to her. Little did he know she was recording everything.
More so, the next thing we know, the woman contacted the police. At Shahra-e-Faisal, the police caught him in action and arrested him. As of now, a case has been registered against him, and an inquiry is underway.
Abuse of a position of vulnerability
By making women uncomfortable and taking advantage of their vulnerability, such men are not only trying to find shameful and disgusting ways of recapitulating patriarchy but are also trying to instill fear into the minds of women.
It is NO NEWS that a man doing such an act anywhere is unacceptable. Moreover, it is not the protection of some right to allow anyone to behave this way. A man masturbating right next to a woman, that too in the middle of the street is not acceptable. Never. Not here, not anywhere.
Such acts are also forms of structural violence, where men abuse their status and use it to oppress and scare women. Not only is it an offense of the law but also a show of power by highlighting that women looking for a job to earn for their family is far from being safe for them. Such a shame!
Nonetheless, hats off to this woman for taking such a courageous step to get the culprit arrested! Who knows how many women he must have lured. Not so long ago, young women from a renowned school of Pakistan called out their teachers for alleged harassment.
What do you think of this story? Let us know in the comments section below.