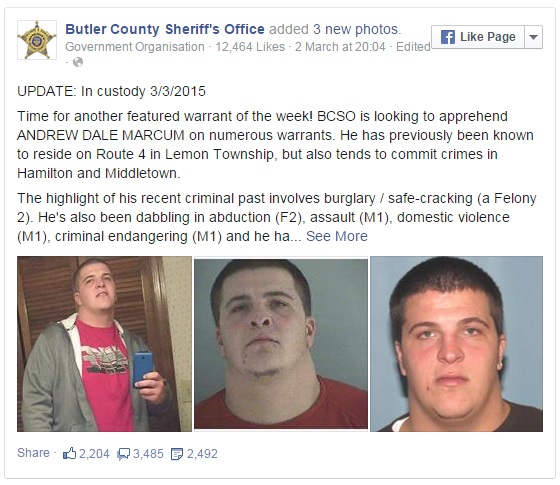 Thanks to the marvels of social media, yet another criminal has been arrested.
Butler County Sheriff's Office located on the outskirts of Cincinnati, Ohio, lately put a 'most wanted' post on Facebook seeking information on Andrew Dale Marcum.
The 21-year-old, Andrew Dale Marcum, was wanted on "numerous warrants". He was said to have had a history of abduction, safe-cracking, abduction, burglary, criminal endangering and domestic violence. Therefore, the Sheriff's Office warned the public not to approach the man directly but instead to contact police (dial 911) if they saw him.
Luckily Andrew Dale Marcum did all the hard work for the authorities.
Andrew Dale Marcum, or at least a man with the exact same name and a profile photo that remarkably resembled him replied to the message posted by police on the Facebook.

Then Sheriff's Office replied to him asking if he could stop by the police station:

Sheriff Richard Jones even had a reply on Twitter:
Hey Andrew Marcum we've got your room ready… pic.twitter.com/iYkANLD9hZ

— Richard K. Jones (@butlersheriff) March 3, 2015
We r close to you marcum soon u will have a new place to live. C u soon.

— Richard K. Jones (@butlersheriff) March 4, 2015
With rising pressure coming from Facebook and Twitter, Andrew Dale Marcum handed himself in. Unfortunately, for him, the taunting was not quite over: