US-based blogger Cynthia Dawn Ritchie has come under fire for her rhetoric once again. Cynthia had previously alleged that she was mistreated and abused by Senator Rehman Malik, as she took to Twitter with the claim.
After police found her claims baseless, Senator Rehman Malik has now filed a legal suit against her for damaging his reputation. An Additional District & Sessions Judge (ADSJ) has accepted and admitted Rehman Malik's legal suit. The Ex-Interior Minister has filed a lawsuit worth Rs. 50 Billion against the blogger for damaging his reputation.
Court summons Cynthia Ritchie
"Summons be issued to the defendant for July 13, 2020 in lieu of UMS….Till next date of hearing the defendant is restrained from publishing any defamatory material against the plaintiff," ordered the judge.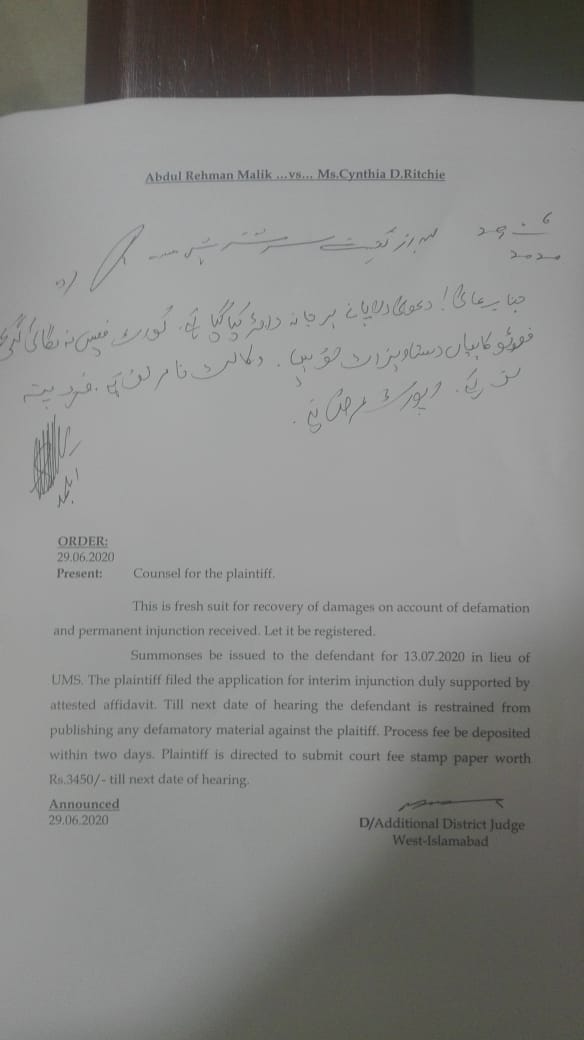 Atta Rabani, the ADSJ, has barred Cynthia D. Ritchie from posting defamatory social material against Senator Rehman Malik. The judge has also summoned the Twitter blogger in person on July 13 for the hearing.
Cynthia had claimed that Senator Rehman Malik had manhandled and abused her back in 2011. She has also been speaking against the harassment she faces now. However, even though her claim was huge, it was not entertained by the public or legal institutions.
Rs. 50 billion and a public apology
Since the initial claim, Senator Rehman Malik has denied and denounced Cynthia's claims. Now, the legal suit filed worth Rs. 50 Billion has definitely shaken Cynthia and her potential agenda.
A local court in Islamabad also issued directives to the Federal Investigation Agency (FIA) to summon Cynthia Ritchie and take action against her for posting defamatory material and making bogus claims against the former Prime Minister of Pakistan, Late Benazir Bhutto Shaheed.
Previously, Rehman Malik had called out Cynthia through legal means and said that her agenda had caused him grave issues. His reputation, both nationally and internationally, had been hurt. The Senator also spoke about having the right to 'redeem himself' – which an apology alone would not serve.
The Senator also called for an apology along with the Rs. 50 Billion suits, which are to be given in the same manner that propaganda was shared against him, which is via print, electronic and digital media.
Moreover, Cynthia D. Ritchie remains as a mysterious figure in Pakistan's digital space. A US-based blogger who entered the scene from nowhere and started to emerge herself in the right-wing aficionados of the country.
As for now, the noose is tightening against Cynthia Ritchie's neck for her baseless claims against senior bureaucrat and veteran politician Rehman Malik.
What do you think of this story? Let us know in the comments below.