After a lot of criticism from all over the nation, Nobel laureate Malala Yousafzai has returned to Pakistan to meet the flood victims.
Ever since the flood catastrophic took place, everyone has contributed in any way and helped flood-affected victims.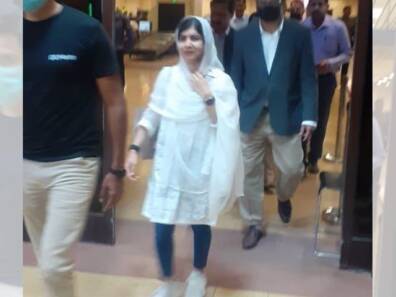 But Malala wasn't there at all, after more than a month Malala Yousafzai decided to arrive in Pakistan and became the center of attention for everyone.
After nearly four years, Malala returned she returned home to her native Swat Valley.
Malala Yousafzai Arrives In Pakistan
Angelina Jolie came to Pakistan right after a few weeks when a flood disaster took place and met the people.
Malala Yousafzai landed at the Karachi airport amid strict security, her parents will also be visiting her as well.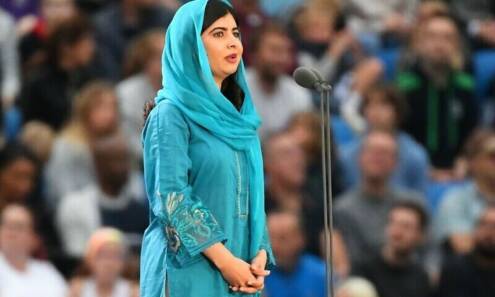 Malala told Reuters earlier this year regarding girl's education, "The fight against climate change is also a fight for the right to education of girls, millions of whom lose access to schools due to climate-related events."
She further stated, "Due to climate-related events, millions of girls lose their access to schools. Events like droughts and floods impact schools directly, displacements are caused due to some of these events," Yousafzai said in an interview.
"Because of that, girls are impacted the most: they are the first ones to drop out of schools and the last ones to return."
Mathira Called Malala A Hypocrite
Before Malala made her return to Pakistan, Mathira bashed her and called her a hypocrite for her acts.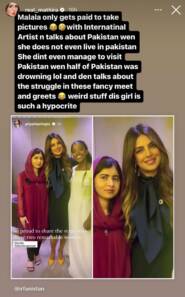 She wrote, "Malala only gets paid to take pictures with international artists and talks about Pakistan when she does not even live in Pakistan," she wrote on her Instagram Story while sharing a picture of Malala and Priyanka.
"She didn't even manage to visit Pakistan when half of Pakistan was drowning and then talks about the struggle in these fancy meets and greet."
She concluded her stance with, "Weird stuff, this girl is such a hypocrite."