The Malala Conspiracy or Abdus Salam's notoriety, they have made us proud!
Malala Yousafzai needs no introduction. The 17-years-old school-going Pakistani girl, education activist and survivor of a Taliban murder attempt is Pakistan's most renowned teenager and has been the sweetheart of the worldwide community for more than two years now. Her triumph, that is, winning the Nobel Prize with an Indian child rights activist who battled against child labor, makes her both the youngest individual ever and the second Pakistani to receive the Nobel Prize.
It is worth remembering the story of Abdus Salam, the first Pakistani Nobel Prize laureate, and not predominantly for positive reasons.
Abdus Salam who was a Pakistani physicist known for initializing the work on subatomic particles was presented with the Nobel Prize in physical science along with two different researchers, in 1979. The research directed and undertaken by Abdus Salam and his associates foresaw the discovery decades later of the Higgs Boson, referred to conversationally as the "God Particle."
Even years before receiving the Nobel Peace Prize, Abdus Salam had been one of Pakistan's most prominent and acclaimed researchers. He helped in founding Pakistan's space organization, he acted as a science consultant to the government of Pakistan and played a crucial part in initiating the research in the fields of atomic/nuclear and various other technologies.
There was one blotch on his record as far as people of Pakistan were concerned: Abdus Salam had Ahmadi background. Ahmadi is a sect whose disciples are viewed as blasphemers by a few Muslims on the grounds that they do not believe that Muhammad (PBUH) was the last prophet.
The Pakistani government altered the country's constitution to the pronouncement that followers of Ahmadi sect would not be viewed as Muslims under the nation's laws, in 1974. Salam surrendered from his administrative post and in the end moved to Europe, where he lived until the time he died in Oxford in 1996.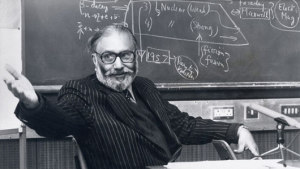 Abdus Salam's Nobel  Prize which he received in the year 1979 caused low key celebrations in Pakistan, on the other hand, it received far more acclamation everywhere else in the world, which also includes celebrations in India, Pakistan's biggest rival in the neighborhood.
While Abdus Salam was ignored in his own motherland, the world gave him high respect and regard. The whole world celebrated his Nobel  Prize win. The Prime Minister of India (at that time), Ms. Indira Gandhi, welcomed him to India and presented him with an extraordinary token of admiration by not just serving him tea with her hands, but she also sat by his feet.
As a gesture of acknowledging Abdus Salam as a Nobel Prize Winner, a street was named after him in Switzerland. In Beijing, the PM and president of China went to a dinner party which was held in Abdus Salam's honor while the South Korean president asked Abdus Salam to advise Korean researchers on the best way to win the Nobel Prize. Abdus Salam was also given many privileged degrees of doctorate and awards for his diligent work, in addition to the Nobel Prize.
Last week, the United Nations-affiliated institution located in Trieste, Italy by the name Abdus Salam International Centre for Theoretical Physics, celebrated its 50th anniversary.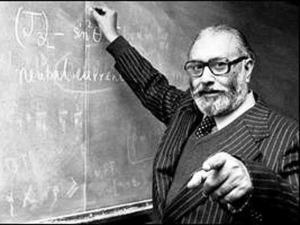 However none of Abdus Salam's extraordinary achievements alleviated inclination against his community in Pakistan. There are approximately 3 million Ahmadis in Pakistan; different groups exist throughout the South Asian regions and Southeast Asia. In Pakistan, further religious laws tightened the extent of their religious practice. For instance, Ahmadis are not actually permitted to call their avenues of worship "mosques". They also made a legitimate premise for the continued prosecution of Ahmadis on grounds that they are assumed apostates. In Pakistan, Ahmadis face the unending risk of prosecution for plainly following their faith.
Today, the situation has become worst for the Ahmadis with the uprise of intolerant religious extremist groups. Only this year at least 13 Ahmadis were targeted and killed in Pakistan. The Taliban insurrection in Pakistan has called for the killings of Ahmadis and the obliteration of their religious sites. Hence, this has risen the trend of sectarian killings in Pakistan.
As per the instructions of Abdus Salam, the very first Pakistani Nobel Prize Winner, his dead body was flown back to Pakistan and he was buried right next to his parents. The phrase First Muslim Nobel Laureate is engraved on his tombstone. Ironically, a local judge demanded the word Muslim to be concealed/removed from it, similar to Abdus Salam's superior legacy in Pakistan.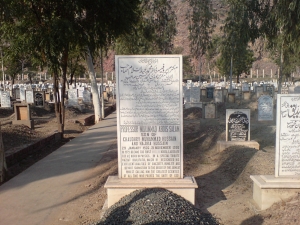 The misery lies in the irony that Abdus Salam took pride in his accomplishments and always considered them as an enhancement to his Muslim identity. He was a proud Muslim and saw himself as the first Muslim Nobel Prize winner, but sadly Pakistanis failed to see that. Commenting on Abdus Salam's worldview, Pervez Hoodbhoy who is one of the leading scientists of Pakistan said:
Intensely proud of the Muslim contributions to science and civilization, and upset at how they are usually forgotten or sidelined, Abdus Salam would gently but eloquently admonish Western audiences for their ignorance. Significantly, he began his Nobel Prize speech about the travel of the Michael Scot to Muslim Spain in the search for knowledge; in those days the lands of Islam were the sole repositories of learning. Before Muslim audiences, he would make passionate exhortations that Muslims should re-enter the world of science and technology before they became utterly marginalized. Nothing hurt him more than the stony barrenness of the intellect in Islamic countries today.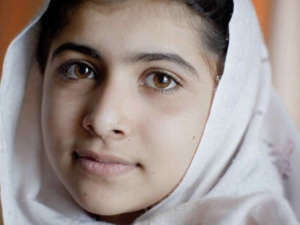 That desolateness is currently afresh in perspective. Just like Abdus Salam, Malala Yousafzai, whom the Taliban attempted to execute for her blunt participation in pushing education for girls, lives in Britain. She is not considered as a hero in Pakistan and faces severe criticism back home. Many people associate her with Western agencies, call her Kaafir, CIA agent, etc. Her accomplishment as the Nobel Prize winner remains unappreciated by the masses.
Because of the safety concerns, Malala Yousufzai may not return to Pakistan for many years to come. We can only hope that Pakistan's second Nobel Prize winner and the world's youngest Nobel Prize winner does not remain as cut off from Pakistan, her homeland, as its first Nobel Prize winner remained.