The entire year has been marred by multiple lockdowns and so the need for quarantining and social distancing has remained constant, with people globally having to distance themselves from their loved ones. In these times of uncertainty, Nestlé Raita came up with a bright concept that helps bring about a change in the dreariness by helping people come together and share joyous moments!
Desi food is packed full of flavour, with different spices raising the taste quotient in the cuisine that already packs a punch. However, as is the case with most cuisines, the thing that ties everything together and makes everything taste better are condiments. In Pakistani culture, the most popular condiments that are widely used are two varieties of Raita; Podina and Zeera.
Nestlé Raita started this campaign off with a video that shows two of our most beloved celebrity couples enjoying food together. The newly superstars Sana Javed and Umair Jaswal start off the video and have a great time on a video call with our very own cricketing legend Wasim Akram and his wife Shaniera Akram. The whole scenario plays out brilliantly as the two couples pass around the food while being in separate parts of the country.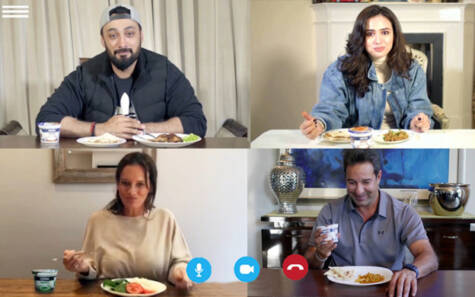 The cultures colliding as our celebrities come together is a joy to see as Wasim passes the food to Shaniera as they all share the joyous moment with their favourite food and Nestlé Raita. The moment where they all start enjoying the food together despite being from different parts of Pakistan really showcases what this campaign is all about. Despite being thousands of miles apart, Nestlé Raita has shown us how it is still possible to enjoy and share experiences with our loved ones despite the distance that we have grown accustomed to over the year.
Soon after this video started appearing on peoples Instagram newsfeeds, a bunch of other people also followed suit, joining in with Nestlé Raita's idea. Social media personalities and foodie groups also chimed in with their versions of the video call, with people from all over the country joining in with their preferred dishes and favourite Nestlé Raita to combine everything with to make it taste better. The excitement in everyone's videos is visibly remarkable as everyone shares in the joy!
Overall, what we saw through Nestlé Raita's efforts was a collection of people coming together, from all sorts of different locales, enjoying different types of foods with their choice favourite condiment; Nestlé Raita. The entire campaign brought about an air of positivity as people joined hands, shared food, and enjoyed the festive atmosphere that the campaign brought about, proving that there are still ways to spend quality time with our favourite people along with all the precautions we take.