The all-time slayer Pakistani actress Mahira Khan has never failed to impress people. Currently, she is representing Pakistan at the Paris Fashion Week.
She was given this opportunity by one of the makeup brands L'Oreal Pakistan she has been working with which has also been one of the main sponsors of Paris Fashion Week for a long time. And Mahira Khan is the official brand ambassador of L'Oreal Pakistan.
By the way, this is the first time any Pakistani actress is walking on the ramp of Paris Fashion Week. So this is actually pretty huge. 
As soon as Mahira Khan broke this news on her story everyone was instantly excited. Because the whole nation saw her at Cannes and oh my didn't she just look gorgeous. So we knew we're about to witness some more breathtaking looks of Mahira. 
Well, like we expected Mahira has lighted up the ramp with her dazzling attire. And Pakistanis just can't get enough of her. Especially after her Saturday look when she wore donning Karl Lagerfeld's leather jacket, skinny black jeans, and a white shirt. 
All of us want to recreate that Mahira Paris Fashion Week look, don't we?
While Pakistani media and the public were in awe for the way their superstar Mahira was representing their country the most embarrassing thing happened. 
A foreign media Dailymail wrote an article where they addressed Mahira Khan as 'L'Oreal team member'. 
Wait…What? How can someone not recognize Mahira Khan? 
She is the most popular Pakistani actress at the current time. So, we are guessing that it was either deliberate or they have been living under a rock. 
Anyways! Nothing stops Mahira from spreading her magic. 
During 'Le Defile L'Oreal Paris' a part of Paris Fashion Week she danced down the runway with renowned English actress Helen Mirren. It was the pictures from the event where Dailymail overlooked Mahira Khan's actual identity calling her "a member of the L'Oreal team". 
The megastar was also seen rubbing shoulders with some other global celebrities like Senorita' singer Camila Cabello, Eva Longoria and Amber Heard, who were there to walk the ramp of Paris Fashion Week as well.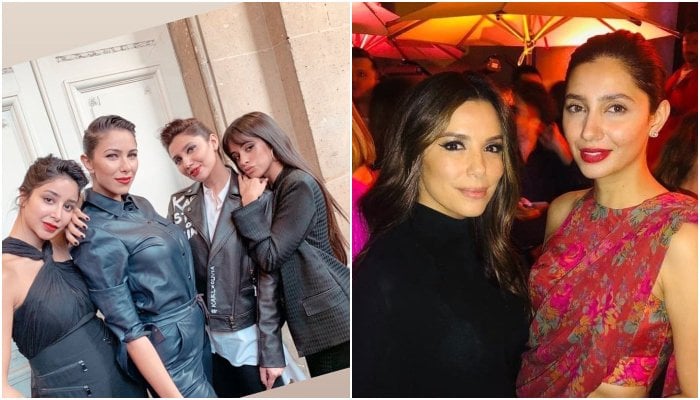 It seems like the way she made acquaintances with Victoria Secret model at Cannes, she's going to make some at Paris Fashion Week too.
What do you think about Mahira Paris Fashion Week looks? Let us know in the comments.