Fans are all excited to see singer Atif Aslam on-screen with actor Mahira Khan in his next music video, a decade after they starred together in the movie Bol.
In his upcoming music video, Atif Aslam will be dancing with Mahira Khan following his recent video with Sajal Aly. The singer revealed that he is pairing up with the Hum Kahan Ke Sachay Thay star for his upcoming song in a video message from the sets of his television debut Sang-e-Mah.
A decade after their last appearance onscreen together, the Bol duo will reunite for this video. Aslam also announced the release of his upcoming song Ajnabi on social media. "Coming together after 10 years," he wrote on Instagram.
Taking to Twitter on Saturday night, the singer also shared the teaser for this song of his. "Here's a little weekend surprise for all my fans," he wrote alongside. "Enjoy the first teaser of my new song and let me know what you think about it."
He then asked his followers to keep an eye out for the song will be releasing "very soon".
Titled Ajnabi, the song's teaser only sees a glimpse of Aslam with an echo of his magical voice in the background. However, we see no sign of Khan in it. But we hope to get to see her soon.  
In addition to the BIn Roye star, Aslam worked with musician Ahsan Pervaiz Mehdi and film director Asim Raza on the project. He also dropped the first teaser of the song on YouTube.
Check it out!
The last time the Tu Janay Na crooner and Khan were seen on-screen together was in 2011 in the movie Bol. With their acting in the film's sequence for the song 'Hona Tha Pyar', they won many hearts.
Additionally, Atif will also be making his acting debut appearing in a sequel to Sang-e-Mar Mar opposite Kubra Khan and Hania Aamir.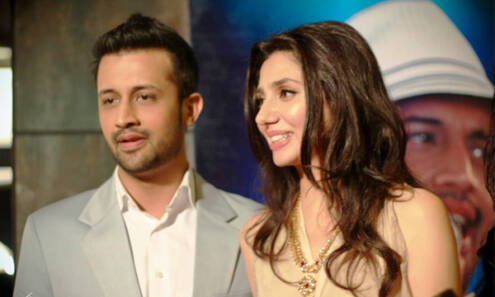 By the way, did you know that Khan and Aslam both made it to Forbes Asia's most influential digital stars list? It was a moment of pride for Pakistan as a prestigious magazine like Forbes highlighted the achievement of the country's celebrities.
It may be recalled that earlier this year, Aslam landed in hot waters as the Federal Board of Revenue (FBR) issued an income tax notice against him over alleged tax evasion. As he still did not pay the tax, the FBR gave the musician only a month extension to pay the tax dues worth Rs58 million.
What do you think of this story? Let us know in the comments section below.