Days after the viral video clip of LUMS students dance party in the open air at a musical festival in Swat's Malam Jabba made rounds on social media, the authorities sprung into action. Police registered a Swat hotel owner and manager after the video went viral on social media.
A week back, a video clip of LUMS students enjoying a dance party at a resort in Malam Jabba went viral across social media. It did not take long for the video to reach the authorities who accused them of spreading obscenity and violating coronavirus standard operating procedure (SOPs), resulting in arrests.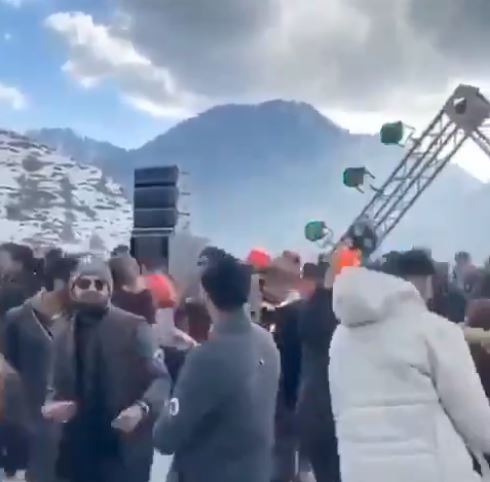 As per the details, the Frontier Tower ski resort and a hotel in Malam Jabba hosted an event called Harvest Festival Pakistan from December 3 to December 6 last year. The police launched an inquiry after a video of young men and women dancing at the hotel surfaced online.
Subsequently, the owner and the manager of the hotel ended up being accused of violating coronavirus SOPs as well as providing the tourists with loudspeakers. Not only that but also accused of promoting vulgarity and obscenity.
According to recent reports, the unidentified suspects were booked under Section 294 of the Pakistan Penal Code. This section covers annoying others by singing, dancing, or uttering obscene songs, ballads, or words in a public place. They were also booked under Section 33 of the National Disaster Management Act, 2010. It encompasses punishment for failing to comply with federal or provincial government's orders.
It is pertinent to note that the FIR also included Section 294 PPC, which deals with pornography. While people convicted under Section 33 can be imprisoned for two years.
Here's the viral dancing video
Fazal Khan, the owner of the ski resort and hotel Frontier Tower in Malam Jabba, and manager Hasnain Ahsan were both presented before a divisional magistrate on Thursday. However, they were soon released after they paid a hefty fine of Rs40,000.
According to the police, the act of girls and boys dancing together is 'un-Islamic'. As a result, the students have proven to be guilty of propagating vulgarity in the country.
When footage of the party went viral, the president of the Swat Traders Association and other locals condemned the act. In addition to this, they issued statements in the media against such events. The local police then acted promptly and carried out a raid on the hotel.
Sadly, the case could tarnish the provincial government's efforts to promote winter tourism in Khyber-Pakhtunkhwa.
Pakistan is a country that holds diversity in all spheres of life. When it comes to tourism, Pakistan is one of the best places to visit. Besides having diversity in its seasons, and cultures, the country is a complete package for tourists from around the world.
What do you think of this story? Let us know in the comments section below.