Today, Lt. Nasir Khalid's mother stands alone in life. A widow woman who has lost everything, including her son in an IED blast, that made her happy. Nasir's mother has given more sacrifices for this country than many.
As per news sources, a bright, smart, and courageous son of the soil, Lt. Nasir Khalid has lost his life in an IED blast. The blast took place in North Waziristan, while Nasir was on his routine duty.
Lt. Khalid Nasir was no ordinary soldier. Completing the 137th Long Course of Pakistan Military Academy (PMA), Khalid was also a graduate of the Royal Military Academy of Australia.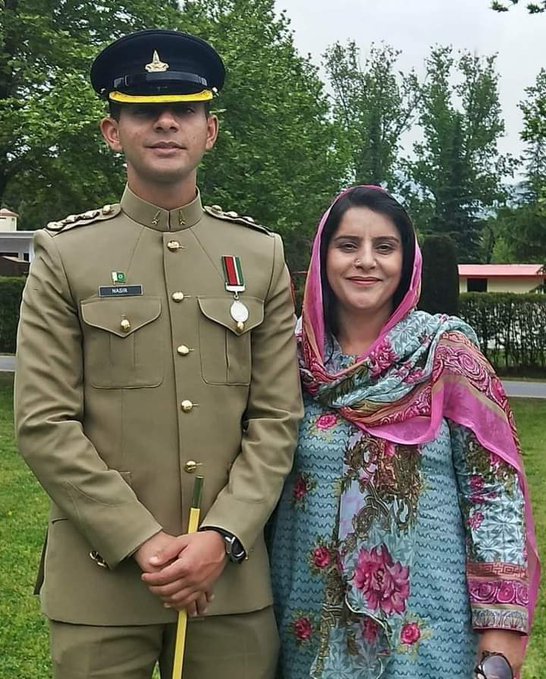 When we talked about Nasir's mother giving great sacrifices, she didn't just lose her son. When Lt. Nasir Khalid was a child, his father, who was a police officer, also earned Shahadat.
Nasir's mother has presented her husband and her son for this country, both giving their lives to keep us safe. Nasir had no brother or sister, was an orphan raised by his mother.
But now, she, the widow stands alone without her husband and, son who lost his life in IED blast. Nasir's martyrdom is a stark reminder that our soldiers, our heroes, give up their lives too often to keep us safe. A valiant sacrifice and his mother's hero, Nasir will be laid to rest soon.
Condolences from all over the country have been pouring out on social media. Everyone has been marking how Nasir Khalid's family has given so many sacrifices for the country.
Nasir Khalid is just one of my young soldiers who lose their lives while protecting us. Not only is the Pakistan Army protecting our borders, but they are handling civil issues as well.
Recently, the Karachi rains brought out the reality of the Sindh Government. When the District Administration could not handle rescue operations, the Pakistan Army was requested to assist as well.
What do you think about this story? Let us know in the comments below.