Only six months ago, the world knew no pandemic, no social distancing and everything seemed streamlined. With the coronavirus coming in out of nowhere, the world is still finding ways to tackle it and get on with their lives. The harsh lockdown in the past handful of months has brought forward many different side effects and made us think about 'lockdown ke side effects'.
Lemon Max, Pakistan's leading surface care brand has found a very creative and entertaining way of showcasing these side effects. The lockdown has definitely changed the way we looked at things and perceived them, altogether.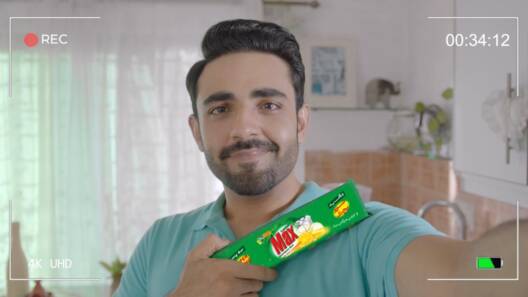 While also challenging gender stereotypes, Lemon Max has presented the side effects of lockdown, in the most light-hearted and witty manner. The web series, based around how the lockdown is bringing people together, also focuses on why everyone needs to play their part during this tough time. Reversing gender roles and helping each other out, we've decided to review all three episodes of the lockdown ke side-effects series by Lemon Max.
There is no doubt that once you start watching these lockdown episodes, you'd wish the series never ends. The picturization, script and production is of the highest quality, which serves as a plus point in this regard.
Episode 1 review: Qareeb Ao Na!
In Qareen Ao Na, the man of the house tells how all the side effects of lockdown aren't bad. From everyone eating together at the dining table to Dada Jee's storytime. All the jokes and the nok-jhok, everyone has gone so close. This is where the twist comes. The wife asks her husband to 'come closer', and when he does so, she tells him to get closer to the dirty dishes.
The episode perfectly breaks gender stereotypes on how doing the dishes isn't only limited to women, but men can help out as well. All you need is a bar of Lemon Max to do so!
Episode 2 review: Work From Home
This episode of 'Lockdown Ke Side-Effects' is based around a topic that most of us know very much about. Ever since the lockdown came into place, we've been working from home profusely. Just like us, the wife talks about how she has been handling both house chores and her office work. Doing 9-5 shifts from home becomes very tough when you have to handle your children and family as well. The woman tells how she ended up sending her presentation to her child's teacher and his homework to her boss.
This is where Lemon Max's witty script breaks stereotypes again. The husband comes into the scene with a sandwich in his hand. Because his wife has been doing so much work, helping her out isn't something to be ashamed of. And yes, don't worry like the wife, the husband did the dishes after cooking for her. Now that is brilliant content!
Episode 3 review: Baat Mindset Ki Hai
Lockdown or no lockdown, baat mindset ki hai. That is the theme of episode number 3 of Lemon Max's 'Lockdown Ke Side-Effects'. The husband, very charismatically, is telling someone how he manages his affairs with the right 'mindset' and takes care of matters. He uses a lot of technical jargon about how he starts his day, but we really wouldn't have understood, had his wife not intervened.
The witty script then shows the wife telling the person on the phone how her 'helping' husband makes breakfast, then does the dishes. And voila, it was time to do the dishes. She hands him the Lemon Max scrub and off he goes, to do the dishes.
All in all, the Lockdown Ke Side Effects, is a masterclass of a web series. All three episodes bring different twists in the ending, reminding us of Netflix's Black Mirror (what a show that was). The script has been executed with absolute brilliance, with a very positive and strong message. This, definitely, is a web series YOU SHOULD NOT miss out on. Cause' if you don't know what the Lockdown Ke Side-Effects are, you're definitely missing out!