With coronavirus on the surge, Pakistani media has had a lot of news to break. But, amid all of the chaos and hastening sensationalism arises and fake news start taking over media. One such news was taken up by  ARY News where the ticker stated that the word 'Mercy' or 'Rehm' had been displayed across Eiffel Tower.
However, the word that the lights spelled out over Eiffel Tower in Paris was actually 'Merci' which means 'Thank you' in French. The word had nothing to do with the interpretation that the news channel made of it and without confirming put up over their channel as breaking news.
France had lighted up Eiffel Tower as a show of gratitude to the health workers and hence, saying 'merci' to them. The real news of 'Merci' turned to 'Mercy' on its way to Pakistan.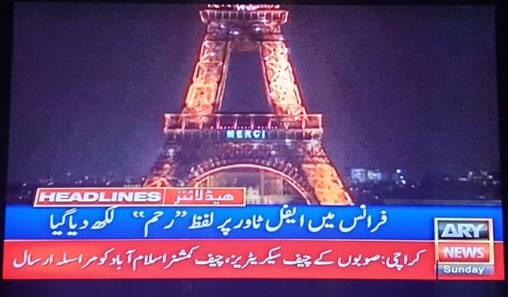 The Internet reacted to the 'Merci' mistake with disappointment
This silly mistake was out on the media for anyone who had the slightest knowledge of French to point out. So, it was a matter of a few moments that the internet started flooding with comments regarding how unbelievably silly the whole thing is. Since the news might have gone through enough people to finally be given up as a headline. And if not, it's worrisome.
Yaar yeh 'merci' hai, 'mercy' nahin pic.twitter.com/xle0yM63jy

— Zarrar Khuhro (@ZarrarKhuhro) March 29, 2020
ARY news says in Urdu ticker:
Rehem (mercy) is written on Eiffel Tower by France?
Merci (not mercy) means Thanks in French. Thanks to medical staff!
This is primte tv channel of ?Pakistan.
Molbis are saying:France waale Allah se rehem ki bheek maang rahe hain. pic.twitter.com/i5S7PMmB7R

— Arif Aajakia (@arifaajakia) March 29, 2020
This is "MERCI" (thanks) not mercy
This was written yesterday on Eiffel Tower to give tribute to person related to medical
یہ اے ار وئی والے پتہ نہیں عوام کو بے وقوف کیوں سمجھتے ہیں #CoronaInPakistan pic.twitter.com/0ywgHPI2SU

— pashtun activist (@pashtunsactivis) March 29, 2020
Well, these kinds of mistakes and the reaction on them actually makes us realize how aware and educated Pakistanis are while the people sitting in media are clueless.
Some were even questioning how such 'able' people are given the free authority to educate people when it's clear how educated they themselves are.
They can't differentiate between Mercy and Merci but they have the Divine Right to educate our masses on on Corona virus, lockdown strategies, exchange & interest rate fluctuations, white collar crimes and institutional reforms. pic.twitter.com/36D7zeKhZm

— Saad Saeed (@SaadSaeed2) March 29, 2020
Misinformation A Regular Practice Of Media
The purpose of reporting isn't just to be the first one to break out the news but to give out the correct information. Because any misinformation can cause chaos and panic. Even though this news wasn't as serious as others might be but it portrays how responsible and reliable Pakistani media is when it comes to authentic news.
Recently a channel reported that Imran Khan had tested positive for coronavirus which was discarded as fake news by the government.
Moreover, on Sunday a case of coronavirus was reported where 11 members of the same family were tested positive. The media reported that the family was reluctant to get admitted to the hospital which spread hatred and chaos in the people. Turns out it wasn't the complete truth.
As per a member of the family, they were protesting against the mistaken report that they were provided with a night earlier.
To people asking that why they refused to go to hospital?

It's cos yesterday tests shown 2 +ve reports and all others -ive. And today they were like no you all are positive, there was mistake in reports etc.
Also my cousin and wife is positive and their 3 months baby isn't so. https://t.co/Wihtc8JeDx

— Hamzaa. (@HamxaMadridista) March 29, 2020
Have more to add to the story? Let us know in the comments.