Shaheed Lance Naik Taimoor from Lahore embraced martyrdom on the LOC in the recent clashes. The Indian Army opened unprovoked fire on the Pakistan Army Jawans last Thursday. The Director-General Inter-Services Public Relations (ISPR) commented through his twitter handle: "In efforts to divert attention from the precarious situation in Occupied Kashmir, Indian Army increases firing along LOC. 3 Pakistani soldiers embraced Shahadat". On the same day, Pakistan was observing 15th August as a Black Day for Kashmir.
Lance-Naik Taimoor Aslam Shaheed: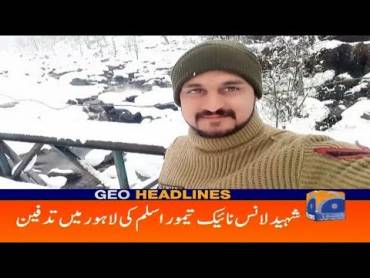 The young Army soldier Lance-Naik Taimoor Aslam, was one of the Shaheeds of the incident. He left his mother, wife and a 6 months old daughter aggrieved. This is indeed the biggest loss for the dear ones, but the bravery that Taimoor's mother showed at his funeral was beyond belief, similar to the bravery shown by her son on the border. It is obvious from her interview that her son inherited bravery and strength from his mother.
Strong mother of Shaheed Taimoor takes us through his last moments…
Surrounded by mourning women, the lady stood there as a pillar of strength. She said Taimoor called her last time to say, Eid Mubarak.  He told his mother that he would not be able to come for eid, and the situation is getting worse at the LOC. He said his final farewells and asked her for permission to lay his life for the sake of his country, Pakistan!
And his mother encouraged him to fight till the last drop of blood. The brave old mother said I raised you for this day son. She told him she has raised him only to sacrifice for the honor of the country. And if she had seven sons, and they embraced martyrdom protecting Pakistan, she wouldn't have flinched.
In her message to the nation, she prayed for every mother's heart to become as strong as hers. She said we are sacrificing our kids for the peace and prosperity of this country. She said if the Kashmiris get their freedom and if peace is restored in Pakistan, then her purpose is served.
See for yourself.
میرے بیٹے نے مجھے فون کیا کہا حالات بہت خراب ہیں میں عید پر بھی نہیں آسکتا اور مجھے اجازت دو کہ میں اپنے وطن کے لیے لڑنے جارہا ہوں جان بھی جاسکتی ہے اور میں نے اپنے بیٹے کو خود اجازت دے دی💔💔😢😢😢😢💔💔💔💔اللہ پاک تیمور شہید کے درجات بلند فرمائےمیرے اگر سات بیٹے بھی ہوتے میں اس ملک پر قربان کردیتیشہید تیمور اسلیم کی والدہ کو پوری قوم کا سلامپاک فوج ذندہ بادMother of taimoor shaheed

Gepostet von Just Military Things – jmtians am Samstag, 17. August 2019
And she's not the only one, behind the tall and strong army men of this country stand their families. They are the source they get their passion and strength from.
See how Pakistan Army & Shaheed Lt. Col Rashid Karim Baig's Family Gave Him The Perfect Goodbye Tribute In Hunza!
We are thankful to the family of Lance-Naik Taimoor and other Army families for sacrificing their precious lives and their loved ones for the sake of this country. They are the reason we sleep peacefully at night and enjoy our days. Share your thoughts in the comments below.