Former Barcelona star Lionel Messi has broken the silence during his farewell conference and got emotional in the end. After breaking every single record in La Liga and won six-time Ballon d'Or winner ended his Barcelona journey.
No one expected it would come to this and Lionel Messi get such heartfelt farewell that broke the internet. Lionel Messi from the beginning showcased his game and scored in every match where Barcelona desperately needed.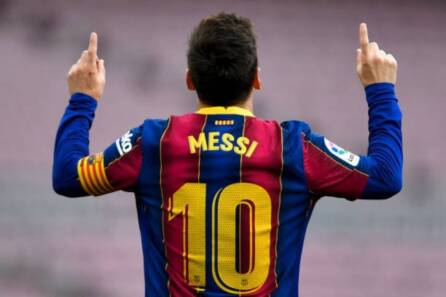 On Thursday, Barcelona released their official statement regarding Lionel Messi's released that they cannot afford a 34-year-old Argentine star. Since then the whole internet has filled with Lionel Messi hashtags and fans showed their rage at Barcelona too.
It's an emotional situation not for only Lionel Messi, but also for the fans who are dying fans of him and wanted him to end his career in Barcelona.
Lionel Messi Farewell Conference- I didn't want to leave
Lionel Messi joined the farewell conference where he expressed everything regarding leaving and attachment with the club. He mentioned, that "I didn't want to leave" and that says everything. It's hard for the Barcelona fan now to watch the game without Lionel Messi and his incredible moves.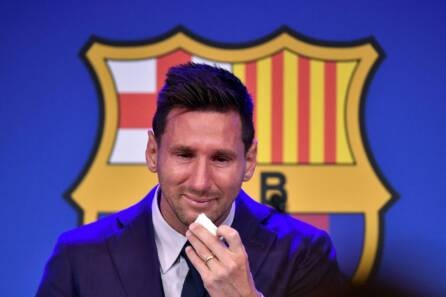 It can be said that it's the biggest farewell in the history of football, even Cristiano Ronaldo didn't get such a farewell too. While Messi was inside the Camp Nou, his fans were outside wearing his number 10 jersey gathered to bid the final farewell to the legendary player.
Farewell Everyone Remembers
Messi got emotional in the beginning before he even started his speech, Conference Lionel Messi said, "These recent days, I've been giving lots of thought about what I could say, and the truth is that I can't think of anything,"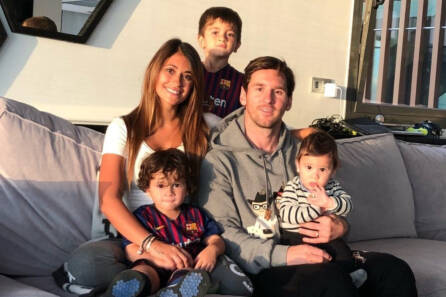 "My family and I were convinced I wanted to stay here, that's what we all wanted more than anything. We thought we'd be staying here in
Barcelona, today I have to say goodbye to all of this," he said.
"We've always made this our home, we're at home and we thought we'd be staying here in Barcelona."
The 34-year-old has been at Barcelona for 21 years and became its all-time goalscorer with 682.
"I've been here so many years, my entire life since I was 13. After 21 years, I'm leaving with my wife, my three little Catalan-Argentine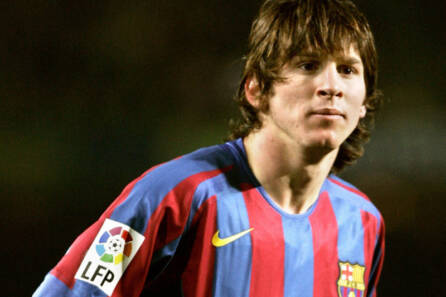 kids and I can't tell you we won't come back because this is my home, and I promised my children that.
"I tried to behave with humility and respect and I hope that is what remains of me when I leave the club. "As long as I go on being competitive and as long as my body responds [I'll carry on playing],"
He further added. "As long as I can, I will carry on competing."
Lionel Messi also revealed that my contract wasn't the issue, "what I know is that I did everything I could. The club says it could not happen because of La Liga. I can guarantee you that I did everything I could to stay."
Records That Lionel Messi Made & No-one Can Break It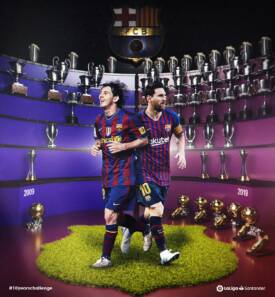 Lionel Messi has always inspired his fans and even sometimes his opponents too with his outstanding dribbling skills and left goals that gave goosebumps every single time.
Messi is Barcelona's all-time goal scorer with 672 goals in his bag. While he was in Barcelona, he made some impressive records in La Liga that no one can even imagine breaking.
Highest goals (474)
Most goals in a season (50)
Highest direct free-kick goals (50)
Higher rate of assists (217)
Most hat Tricks (36)
The only player in history who has won Ballon d'Or, FIFA World Player, Pichichi Trophy, and Golden Boot in the same season. Youngest player to win Ballon d'Or three times, a player with the most golden shoes too.
When it comes to the Spanish league, he has won 10 leagues, 8 Spanish Super Cups, 7 Copas del Rey, 4 Champions Leagues, 3 Club World Cups, and 3 European Super Cups.
No one can forget his legendary goal against Real Madrid where he destroyed them in the last minute and that iconic celebration too.
Now, What's Next For Lionel Messi?
As Lionel Messi has become a free agent, PSG eagerly wants to sign the star player and make their squad stronger. There are possible chances that it will happen in few days and Neymar JR and Messi will reunite. Where he will play with Sergio Ramos whose been a rival in Barcelona and always had heated moments with Messi.
But if Manchester City head in and offer a deal to him, and if he accepts then it would be an iconic signing. Because many of the football fans out there want Messi to play in English Premier League and dominate in that league with his dribbling skills.
What do you think of the story? Tell us in the comments section below.