Since last week, many of the Lahore Grammar School (LGS) students have been coming out with their stories against its faculty for all the wrongdoings. We have come across a few more similar incidents by more faculty members of the same institute.
It's such a shame that the management of LGS is not taking care of student's security. Everyday female students are raising their concerns regarding the grave issue of this Pakistani society.
Another LGS faculty member accused of harassment
On the condition of anonymity, an LGS student has shared her harassment story with Parhlo! She has accused another faculty member Sir Shahid of harassing students during his physics class.
"As a student of LGS Model Town 137-E, I can assure you that many students who have come forward with stories of harassment at the hands of Sir Shahid have been invalidated time and time again by our school administration. Furthermore, now another male staff member Sir Faheem has been accused of harassment. However, members of the school administration have been validly accused of slut-shaming 13-16 year-olds. They are now intimidating the students into silence," she said.
She further added, "I myself am a student of Sir Shahid who teaches physics. Since our O-level orientation day I have felt uncomfortable in his presence. He looks at us wrongly, invades our personal space, comments on our appearances. He stops girls after class just to ask 'main kaisa lagta houn apko?'".
She also said that many students in the past tried to file a complaint against him but no action was taken against him ever. The management also accused students of lying and using #MeToo movement in their favor.
"Time and time again our administration has sexualized and slut shamed us by telling us that if we open our hair or wear certain clothing [western wear] we are asking for it and want attention from boys. And now we are being told by a teacher to remain off of social media and not to do anything. Furthermore, to behave like 'educated civilized people' instead of the typical ones," she further tells Parhlo!
Prove of harassment by LGS management/Faculty
She has also shared some screenshots of the messages by different students who have faced abused in one way or another by the more LGS faculty members [In order to protect the privacy of students we have removed the names from the messages].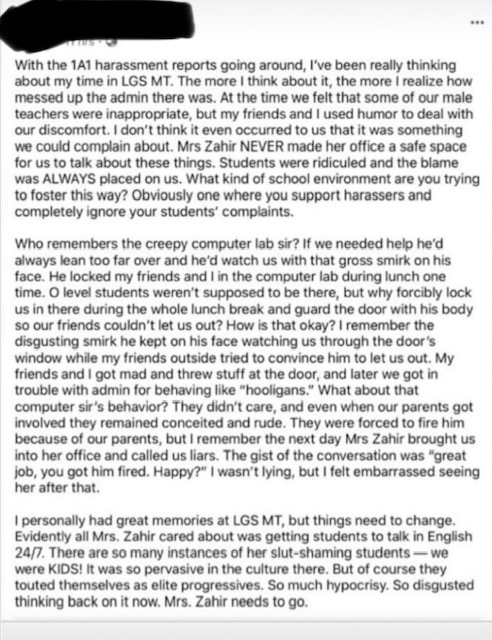 Moreover, too many students complaint against Sir Shahid over his inappropriate behaviour. While the school principal keeps on neglecting students and their plea. She also slut-shamed them for accusing 'innocent men' of the school.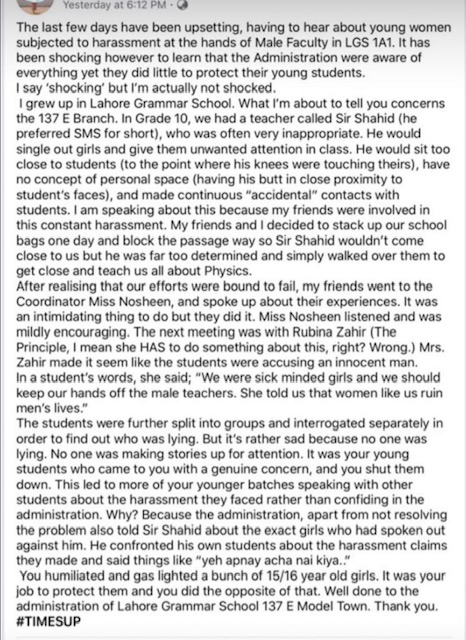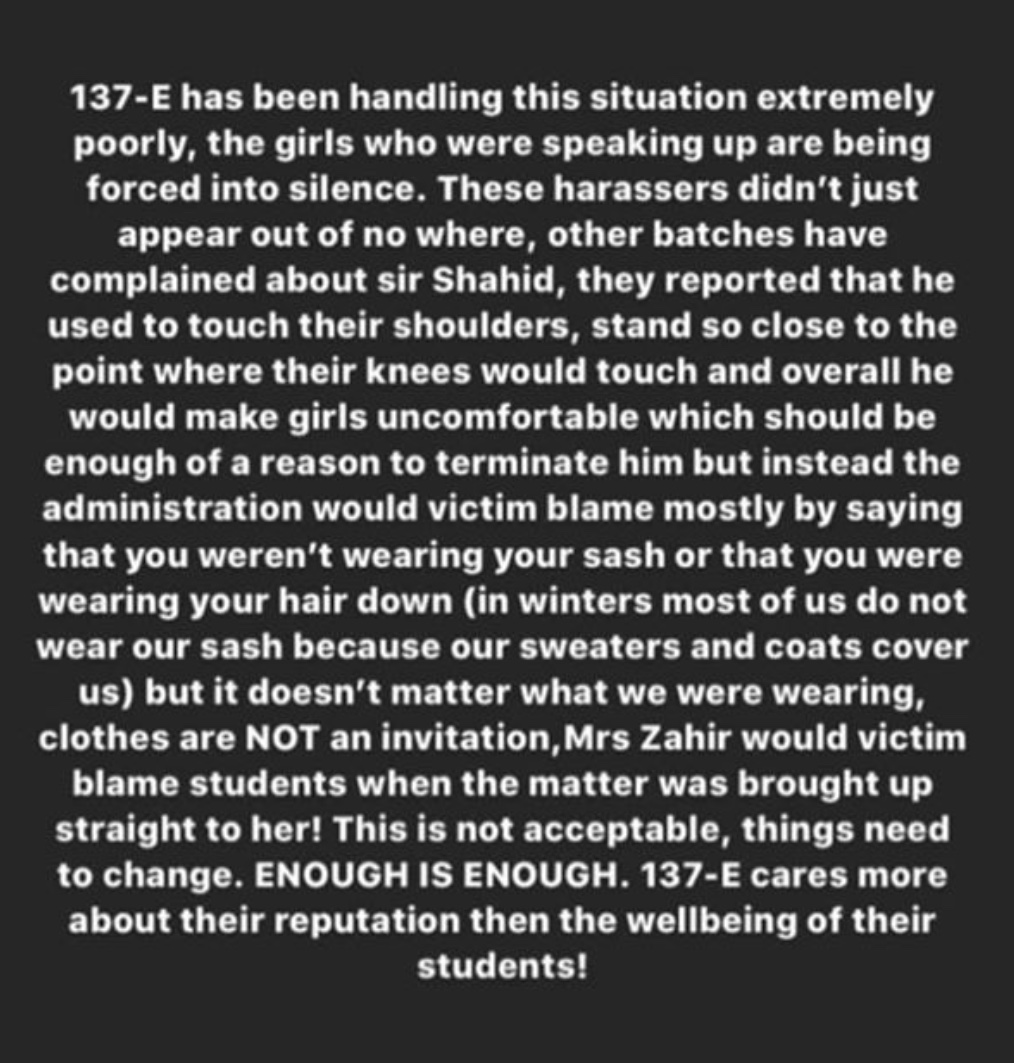 After much uproar on social media, the management took action against those four faculty members who were proven guilty by the students. But, still seems like the school has to deal with a lot more people in the same regard. The situation seems worse in the prestigious institute which is known for quality education and standard.
People are showing their support to the LGS students. Actress Meesha Shafi also lauded them for the courage they have shown against the powerful people.
What do you think about the story? Tell us in the comment section below