Disclaimer*: The articles shared under 'Your Voice' section are sent to us by contributors and we neither confirm nor deny the authenticity of any facts stated below. Parhlo will not be liable for any false, inaccurate, inappropriate or incomplete information presented on the website. Read our disclaimer.
"The philosophy of the love is the foundation of my poetry and this is the reason why I always ponder over the triangle of God, universe and human and understand them." – Shakir
This was said during the interview by legendary poetess Parveen Shakir who the hearts of young and old people through her fragrance spreading Urdu poetry.
The poetess with a different Urdu accent was born on November 24, 1952, at Karachi the capital of Sindh, Pakistan. She was one of those few people who succeeded in getting famous at such a young age. She started to write Urdu poetry at very little age, not a single poetess had done before as Parveen Shakir described feminine emotions.
She poetized human ego, desires, and denial by making a strange relation between words and emotions. Sometimes she wrote about a steel mills worker in her poems. She completed her graduation in English literature and linguistics, later she completed M.A in same subjects. The poetess also belonged to the educational department then later did a job at government sector.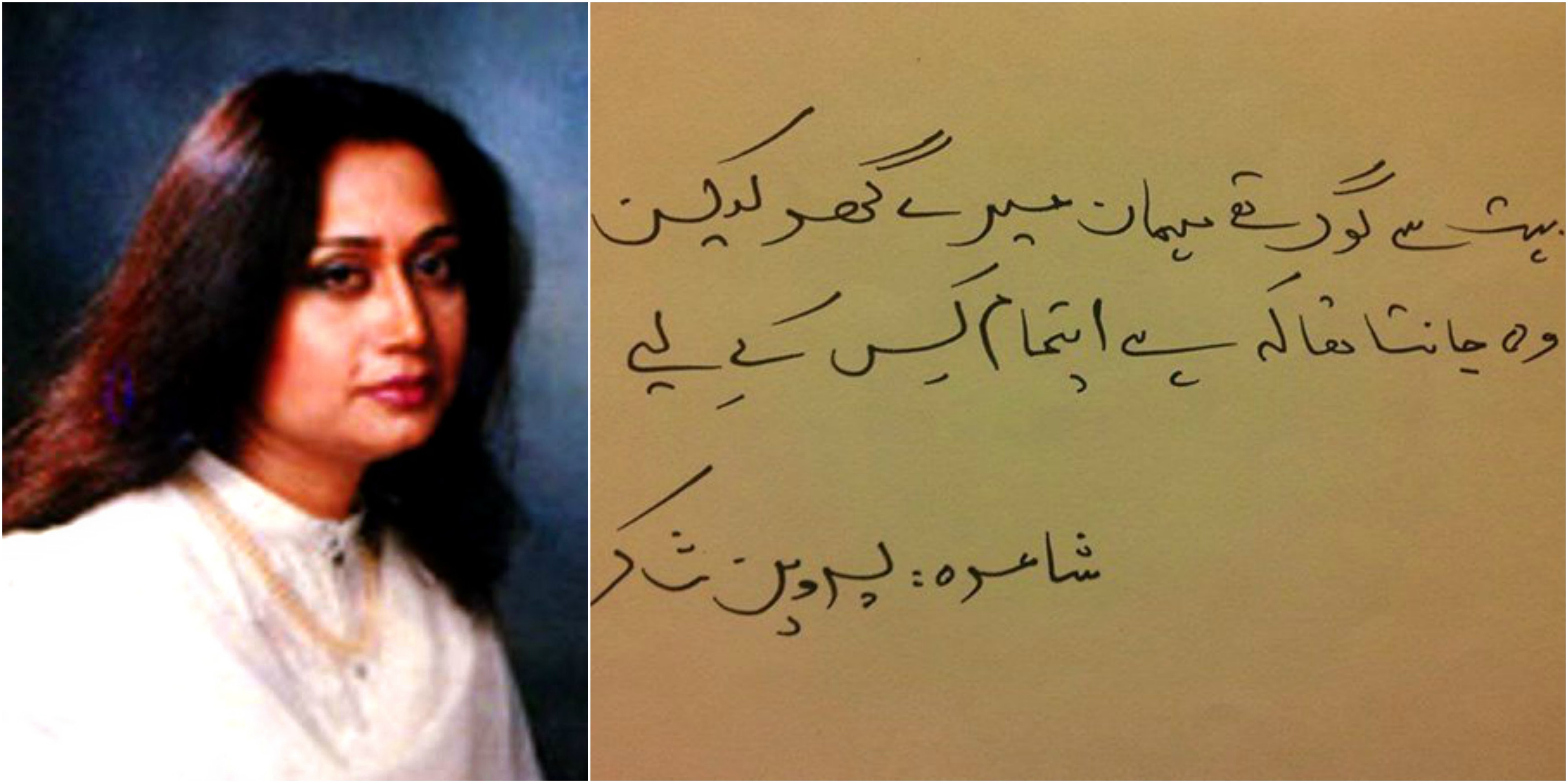 Her very first book came out in 1977 when she was just 25 years old and the fragrance of that book spread all around. In the first book Fragrance of Parveen Shakir poetry, she expressed the emotions of jolly girl. She wrote in this way
جب ہولے سے چلتی ہوئی ہوا نے پھول کو چوما تھا تو خوشبو پیدا ہوئی تھی۔'
(When slowly blowing wind kissed the flour, fragrance got created)
As the time went by, her style of poetry got changed. If we take a close look, various aspects of the life of a woman can be seen in it. In her poetry, refusal of conventions and insurgency can be seen.  She sketched the pictures of a girl's emotions and poetized her affliction in poems. Parveen Shakir married to Doctor Nasser Ali with a child. However, they had desertion in 1987. She beautifully poetized the emotions of a mother, dispute with husband and difficulties of a working woman.
She also did column writing, apart from this she achieved the award of Pride of Performance for serving thought provokingly in literature. Unfortunately, she died at age of 42 in a traffic accident on 26 December 1994 in Islamabad. It has been more than two decades since she passed away but her beautiful poetry can still be felt like fragrance. She also described love and longing in her poetry in the following way.