Disclaimer*: The articles shared under 'Your Voice' section are sent to us by contributors and we neither confirm nor deny the authenticity of any facts stated below. Parhlo will not be liable for any false, inaccurate, inappropriate or incomplete information presented on the website. Read our disclaimer.
In history many well-known personalities stood up for hunger strike against Human Rights violations, occupations, killings and corruption,causing several influential individuals to lose their lives.
Sacrificing one's own life is the height of struggle and death from hunger needs a cause leading one to glory.
British, Spanish, Irish, Indian, Cubans, Palestinians are amongst the few countries that have had individuals as martyred in Hunger Strikes, no matter if they have accomplished or not.
Following the topic from a scientific perspective, doctors say a man undergoing a hunger strike may lose their energy consistently in the first 3 days.
After this, the liver starts processing body fat, this process called Ketosis, after which within three weeks, the body enters a "starvation mode".
At this point the body "mines" the muscles and vital organs for energy and then begins the loss of bone marrow which is of course life-threatening.
There are examples of Hunger Strikers dying after 40 to 60 days of the strike and according to history, early use of hunger strikes by Irish republicans had been countered by the British with force-feeding, which culminated in 1917 in the death of Thomas Ashe in Mount Joy prison against British Imperialism, in October 1920. The Lord Mayor of Cork, Terence MacSwiney,died on hunger strike in Brixton prison against the British.Jatin Das (who fasted to death) and also the famous Bhagat Singh also underwent through the same.
It was only on the 116th day of their fast, on October 5, 1929.After Indian Independence, freedom fighter PottiSreeramulu used hunger strikes to get a separate state for Telugu- speaking people. On April 3, 1972, Pedro Luis Boitel, an imprisoned poet and dissident, declared himself on hunger strike. After 53 days on hunger strike receiving only liquids, he died of starvation on May 25, 1972.
Bobby Sands was the first of ten Irish Republican paramilitary prisoners to die during a hunger strike in 1981 and survived for 66 days. On February 23, 2010, Orlando Zapata Tamayo, a dissident arrested in 2003 as part of a crackdown on opposition groups. Orlando died in a hospital while undertaking a hunger strike that had been ongoing for 83 days.They all have got the highest level for their nations.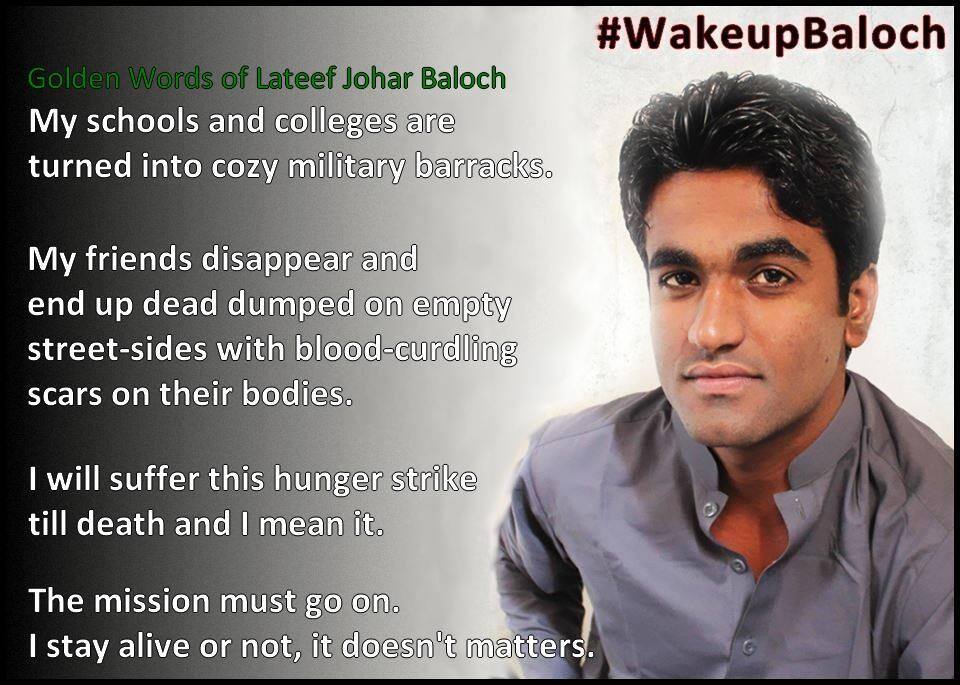 Meanwhile, a young 23 years old Baloch, named Lateef Johar, an intelligent gentleman, a poet, writer, journalist and a brilliant student and a CC member of Baloch Student Organization (Azad) is fasting in front of Karachi Press Club from 22nd April 2014 after the force abduction of BSO Azad's Chairman Zahid Baloch.
Lateef Johar is on a Hunger Strike against abduction of thousands of Baloch missing persons, extra judicial killing and daily operations in Balochistan which caused civilian casualties.
He says "I have been taught to love, humanity and tyranny must not be answered with tyranny and I can't hurt anyone to make my voice heard but I could certainly hurt myself to be heard".
In a month, thousands of people came for solidarity with him, mostly Baloch including women, children, elders and large number of youth. Pakistani Civil Society and Human Rights workers, journalists, student organization members and Sindhi nationalists, politicians also visited him.
However, there is no news on Pakistani TV channels and no government officials visited or asked him to stop his strike.
Lateef Johar's smile is like magic and his words are like mountains, his eyes are full of love, you'll find patience,strength, and wisdom, when one talks to him.
For the people who love him, asked him to stop the strike but he declines every time and they have decided to continue the strike and if Lateef falls, after him several youngsters are ready to take the strike ahead.
His courage is a symbol of struggle for every youngster and that is what his young nation will learn from him.
They will decide who is wrong and who is right.
I use to listen from civil society that military does injustice while civilians don't have anything to do with it.If it is a lame discussion than we are not humans.