Pakistani media is buzzed with the arrest of Nawaz Sharif and Maryam Nawaz which took place last night. After the courts announced the father-daughter duo guilty of corruption, the nation was looking forward to them coming to Pakistan from the United Kingdom, where Kulsoom Nawaz is undergoing treatment for cancer.
Welcomed by the division of supporters and haters, Maryam Nawaz and Nawaz Sharif said made their way to Pakistan after bidding farewell to their family.
Saying Goodbyes to their Family Members Was Tough
The images were shared all over social media as well.
Told my kids to be brave in the face of oppression. But kids will still be kids. Goodbyes are hard, even for the grownups. pic.twitter.com/ge17Al5gfY

— Maryam Nawaz Sharif (@MaryamNSharif) July 12, 2018
Junaid Safdar was Caught (Later Arrested) In a Brawl with a Protestor Who Abused Maryam Nawaz
This looks pretty bad, these Sharif morons thought that man is some poor bakery guard and his excellency Junaid Safdar will be saved by Punjab Police. No wonder this family thinks they are above any law and shouldn't be touched. pic.twitter.com/3EBVWPKCeE

— Musa (@MusaVirk18) July 12, 2018
Before the Departure
Heavy scenez hone wale hai kal ab… pic.twitter.com/uox3Y6Xa9N

— ajeeb kashmakash hai (@SohaTazz) July 12, 2018
The Picture The Melted Everyone, Even the Supporters of the Opposition was the Picture of Maryam Nawaz and Nawaz Sharif with Kulsoom Nawaz
Saying their goodbyes to Kulsoom Nawaz who continues living in a hospital, the teary-eyed Maryam Nawaz couldn't control her emotions.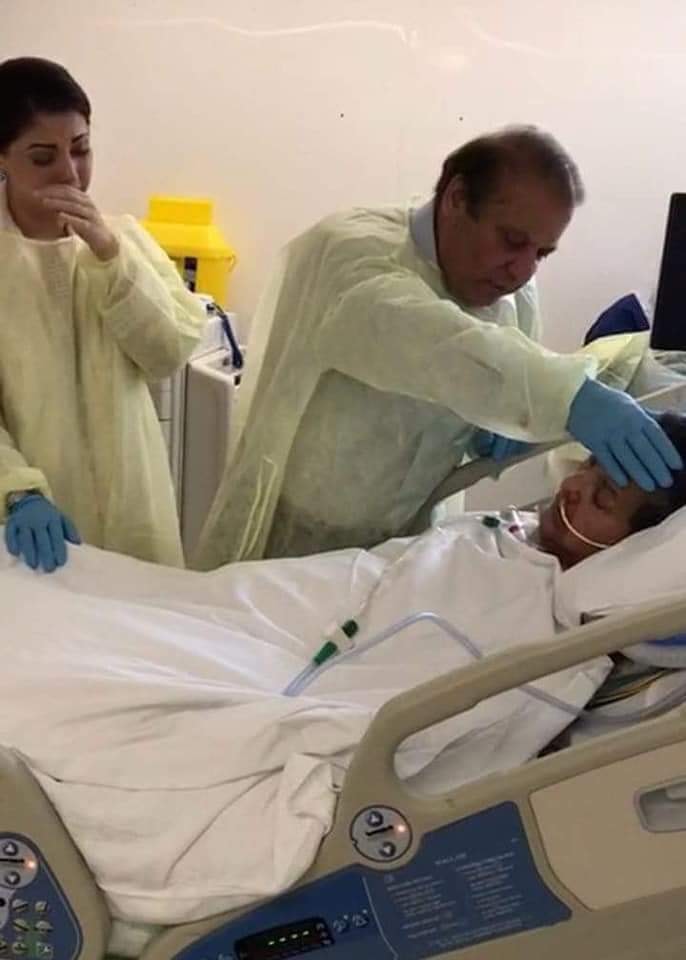 Pakistanis Shared How Political Differences Aside, this Indeed Seems Like a Tough Moment
Given how Kulsoom Nawaz is fighting cancer, with Nawaz Sharif away for 10 years and Maryam Nawaz for 7 years, anything can happen in the meanwhile.
Poignant scene at the London clinic where Nawaz Sharif and daughter Mariam say goodbye to comatose Kulsoom Nawaz. Wish them strength and peace. Whatever his faults MNS has come a long way from being GenZia's protege. pic.twitter.com/VKI1AqWhxS

— beena sarwar (@beenasarwar) July 13, 2018
Ameen…
That's extremely painful to say the least. May Allah SWT bless Begum Kulsoom Nawaz with health. ? pic.twitter.com/ONQqKIeatg

— Muneeb Farooq (@muneebfaruqpak) July 12, 2018
I don't have the heart to look at the pictures of Maryam Nawaz Shareef and Nawaz Shareef bidding farewell to Begum Kulsoom Nawaz.

— . (@khwamkhwah) July 12, 2018
However, Many Reminded Others of the Model Town Massacre That Happened Due to the Decisions Made By Nawaz and Shehbaz Sharif
All sympathies for Kulsoom Nawaz, reminds me of mothers & wives of model town victims, atleast Kulsoom Nawaz knows that her husband & daughter will be safe in A class jails, sigh the mothers of Model town victims they didn't even get to say goodbye to their sons. https://t.co/XOc9uz7uYO

— Ayeshay (@champagne_lassi) July 13, 2018
And the State of Government Hospitals in Our Country
I will get a lot of hate for this. But a simple search will show you the conditions of Government hospitals. My two sisters have worked there and the conditions they told were horrifying. While I pray for health of Kulsoom Nawaz, I pray all corrupt politicians rot in hell. pic.twitter.com/xoAqAZl7hm

— Bushra Joyo-Gandhi (@filmyjoyo) July 13, 2018
Well…This Is Much Needed!
daily reminder:

Please keep Kulsoom Nawaz and her health out of your politics. Not everything is a conspiracy. Don't be a dick.

— j. (@Jaweriyaa) July 13, 2018
But Many Claim that this Picture Was Published as a Motive to Gain Sympathy
May Allah give shifa-e-kamila to Kulsoom Nawaz but if you think the pictures from the ICU weren't published on the Internet for sympathy votes, then your stupidity knows no bound. The person coming back is convicted by law, don't make him look like a freaking hero.

— کاظمی (@HaayeShabbir) July 13, 2018
I don't think anyone would've any hard feelings for Kulsoom Nawaz but dragging her critical condition & using it to influence this nation to vote for 'em & stand by them is beyond me. Yeh apni bemar maa aur biwi ko rol rahe ek aur bar power me akey corruption krne k liye. Bravo.

— depreciation (@raving_dead) July 13, 2018
May no one ever be in a situation where they have to leave their ill parent behind without knowing when they will return. It is indeed a sad affair of events – but one can say it was bound to happen given the charges against Maryam and Nawaz Sharif. Political differences, one can always make a prayer for the person fighting for their life and death.
May Allah grant health to Kulsoom Nawaz, Ameen!