Karachi is truly becoming wild. From the incessant and devastating monsoon season that made every street of Karachi flood, to having wildlife roaming freely in the city one would think Karachi has seen its worst! However, if you think that is the case, we are sorry to tell you that you are wrong!
In just a few days, one of the largest cities of Pakistan was succumbed by thunderstorms and the raging havoc they created. Now it isn't so that this is the first time its raining in Karachi. It has rained before; however, never has Karachi been neglected so poorly as it is being now!
Landslide in Karachi damages over 22 cars!
Apart from the havoc, the rainy season has created in Karachi, this year seems to have had a serious rivalry with it too. On 25th August 2020, Tuesday, a young lady looks out her window and feels that the cliff-like area on the other side is at the risk of falling due to the incessant rain.
Deciding to capture the moment she took out her cell phone and made the entire video of the horrific moment. Luckily though, no loss of life was reported nor was anyone injured from this natural disaster. Here take a look at this nature's wrath yourself!
While talking to a local news channel, Khalid Hussain, who is the president of Javed Hill View mentioned:
"There are about 22-30 cars buried under the debris of the cliff, including my own".
The rescue teams and official authorities are doing at best what they can to provide assistance and aid to the people stuck in the area. In addition, they are also trying to provide to the people of the area.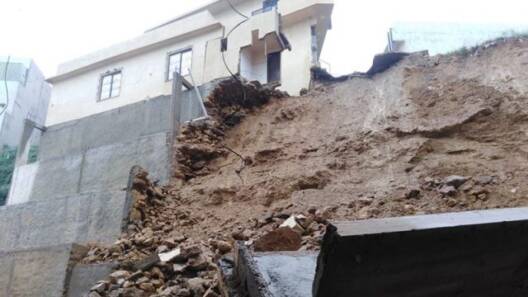 The site of this collapse was basically serving as a parking lot to the residents of the neighborhood. There is no doubt in the wrath and anger of Allah. Seeing this, a horrendous and gruesome landslide is surely giving us goosebumps all over again.
Simultaneously, we commend the bravery of the rescue teams that reached the location on time. Moreover, we are also fearful and thankful to Allah for giving His people a chance of repentance, provided no life was lost during this incident.
In the end, we hope that may Allah have mercy on the people of Karachi. We also wonder what might be next. From having lions roaming freely to landsliding, but then again this is Karachi!
What do you think of the story? Tell us in the comments section below.