WARNING: Some viewers may find the content of this story disturbing. Viewer discretion is advised.
Christians of Pakistan, like other religious minorities in the country, have been the target of escalating attacks in recent years. The attacks, on their residential areas and places of worship, have mostly been motivated by the country's extremist minds or political motives.
It must be noted that Pakistan is an overwhelmingly Muslim state but Christians and Hindus make up the largest minority groups. More so, each represents about 1.6% of the population, mostly in Sindh and the cities of Lahore and Faisalabad. Sadly, the climate of intolerance towards this community in the country has become unbearable.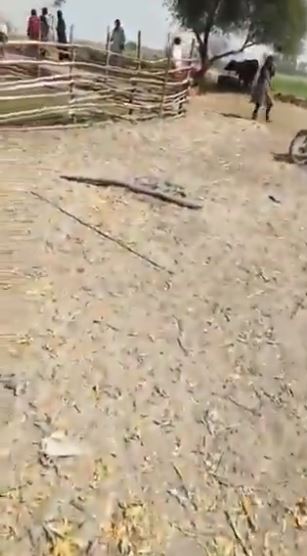 In a recent gut-wrenching incident in Sindh, a group of beastly men attacked unarmed women belonging to the Christian community. In addition to this, axes and weapons were used to physically attack these women. Moreover, no man was present at the time of the inhumane attack.
In a video recorded by one of the victims, the woman begs and pleads for help and justice. The victim claims that the men attacking them are after their land.
WARNING: Some viewers may find the content of this story disturbing. Viewer discretion is advised.
Here is the recorded footage
These innocent and helpless Christian women and their kids were allegedly attacked by land grabbers. While they remain in shock and under the fear of another attack by them, the matter has not reached the authority yet. The inhumane and illegal behavior must be dealt with according to rule of law.
Christians in Pakistan have a history of continuous discrimination against them and treatment as second-class citizens. 
Occasionally, this leads to violence against Christian landowners as a ploy to force them off of their property. Moreover, over the last few years, Pakistanis have made several attempts to seize the land from the Christians, usually succeeding. The reason? Merely because Christians are a marginalized minority.
Illegal or forcible dispossession of a rightful owner is not anything new in Pakistan. Land grabbers have existed for a surprisingly long, long time. However, a huge pile of cases remains unchecked. We hope justice is served in this case!
We urge Minister for Human Rights Shireen Mazari and other officials to look into this matter and help these families as soon as possible.
Read More: Dear PM, This Retired Teacher & A Mother Needs Help To Get Her Plot Back From Land Grabbers
What do you think of this story? Let us know in the comments section below.