Pakistan Super League is not merely a cricket league involving teams competing against each other – it is much more than that. It is the emotions of all Pakistanis cramped up at one place. It is the hearts and spirits buzzing with passion. It is the years and years of toils that accounts for the successful standards PSL stands by and it is the people that make it simply perfect.
You must have caught a face on camera making certain expressions that you cannot help but felt sort of amused by. That face is none other than of Lahore Qalandars owner, Fawad Rana.
Of course, he is a well-acclaimed personality among fans of Lahore Qalandars. He is the owner of the club and the one to lay the foundation of what enthralls millions in Pakistans. I am not a Lahore Qalandars fan but I do state the claim that he is a joy to watch on TV. At least, I would incisively listen to him speak or watch when he's dancing around. He is indeed quite an entertainment package.
Easy to say, for him it is beyond business. He channels his enthusiasm and passion at the forefront of his mind and exudes such a positive notion.
So, let us shed light on the times Fawad Rana made us believe that he's an adorable guy!
1. Relentless Enthusiasm For His Team And For PSL
Just this very picture circulated all over social media of Fawad Rana. Here is the owner of a big team, Lahore Qalandars. He is not some decorated man with brooding conceit whose giant ego sits on his nose, he's a people's person, down to earth and the man having a sense of happiness and adventure.
2. His Assertive Emotions Are Displayed When LQ Fails
He seems to be the guy having all the care in the world when his team is not performing up to the standards. He avidly reflects what he feels like.
He wouldn't just sit there and show no sort of expression. He's involved in the game minute by minute. His emotions are simply worthwhile and that is why he's caught up a number of times.
3. His Priceless Expressions Are Louder Than Words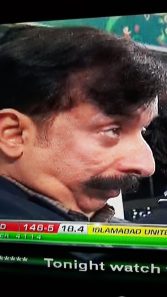 4. He Can't Contain the Excitement Buzzing in Him
Lahore Qalandars' team owner is love. pic.twitter.com/KHlcmnxtV4

— Ali. (@iPakistani10) February 4, 2017
5. When He danced in Full Gangnam Style
Fawad Rana celebrating the wicket of Chris Gayle … ???? #KKvLQ #PSLT20 #PSL2017 pic.twitter.com/SmDmsPMkBK

— Taimoor Zaman (@taimoorz1) February 16, 2017
6. He dedicated the victory over Karachi to the victims of Lahore & Sehwan blast and also remembered them during the game
We dedicate this victory to all the victims of the Lahore, Sehwan, Peshawar & Mohmand Agency blast Incidents. May their souls rest in peace.

— Fawad Rana (@FawadNaeemRana) February 16, 2017
This guy earned our respect when he remembered the deceased in Lahore as well as Sehwan blast. He in fact dedicated the victory over Karachi Kings to the victims.
We are not the only ones to claim it. Many people found it an incredible gesture.
A big fan of this man Rana Fawad.
What a kind & generous man he is.
Was almost crying while remembering Lahore & Sehwan blast victims

— Ali Asad (@aliasadch) February 16, 2017
"Main yeh match jeet k Sehwan Sharif aur Lahore k shaheedon ko dedicate karna chahta hun"
Fawad Rana

Can this man ever stop winning hearts?

— Rana Talha Asfar (@RTAluvzAfridi) February 16, 2017
By dedicating the win to the victims of Lal Shahbaz Qalandar #Sehwan
Fawad rana you have earned my all respect…

— This Is ABID (@BeingJafri) February 17, 2017
This is what makes PSL special. The credible people are celebrated and our nation knows it well. Wishing all the teams a great luck in the tournament!