The fifth edition of the Pakistan Super League (PSL) has ended. Karachi Kings won the PSL 2020 after defeating Lahore Qalandars by five wickets in the final held at the National Stadium in Karachi. Though Lahore Qalandars have lost the PSL finals but Rana Fawad has won our hearts.
The match between Kings and Qalandars was fiercely competitive. Even though Qalandars lose the match but Pakistanis are happy that at least Fawad Rana got his team in the final of PSL for the first time ever.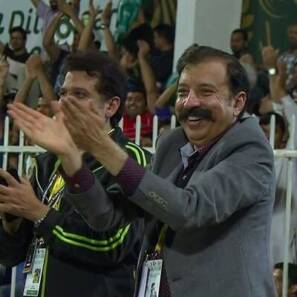 Rana is regarded as one of the most lively and popular personalities of the PSL. He is famous among Pakistani cricket fans as the most passionate and enthusiastic franchise owner in PSL. After acquiring Qalandars in 2014, Rana became the first individual to buy a PSL franchise in Pakistan.
Pakistani cricket fans admire Rana's die-hard passion for cricket
Cricket fans across Pakistan and other parts of the world admire Fawad Rana for his positive attitude. Although Qalandars did lose the PSL 2020 final to Kings, social media users from around the world appreciated Rana for his positive attitude.
It is important to note that Qalandars' route to the final was not easy. They started their PSL 2020 journey with three consecutive defeats. However, they went on to win their fourth game but again lost the fifth game by a huge margin. Lahore Qalandars have lost the PSL finals but the sweet gestures of Rana Fawad have always won our hearts.
There were even rumors that Rana may sell Lahore Qalandars after their early defeats in PSL 2020. However, Rana denied the claims.
It is evident that Rana has done a lot for domestic cricket of Pakistan. It's people like him who invest in such risky areas where there are minimum chances of having any victory.
What do you think of this story? Let us know in the comments section below.