It is bad enough that the people are suffering through the times of coronavirus that we had to hear such horrible news as well. Added, it's Ramadan when people practice the teachings of Islam, offer ibadat, keep fast to rekindle the spirit of Islam.
Regardless of everything stated, the news of the DPS retired principal Shala Malik came forth. It was reported that she was shot 4 times while being robbed in Lahore today.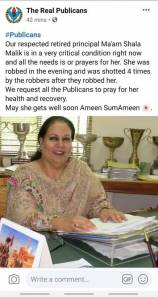 The footage by an eye-witness
The news reported by the admin of a page also added the footage by an eye-witness where one can see the principal getting shot by the robber. As people, abusing in the background, plunge to catch the robber, he flees away from the scene while all we can hear is the blaring of the police siren in the background.
DPS and the alumni
Following the release of the footage on social media, her students and friends commented and shared their concerns about the incident. From the amount of support, one can tell the principal was revered by her disciples and colleagues. Everyone commented in duas for her recovery.
The news came out on the Facebook page run by the students, which said, "Our respected retired principal Ma'am Shala Malik is in a very critical condition right now and all the needs is or prayers for her. She was robbed in the evening and was shotted 4 times by the robbers after they robbed her. We request all the Publicans to pray for her health and recovery. May she gets well soon Ameen SumAmeen."
Appeal to the authorities
It is requested to the authorities to take the matter in their hands immediately. Ponder on the causing factors, and take futuristic measures. In order to eliminate the possibility of any such criminal activities to take place again, amid these unfortunate times.
What do you think of the story? Let us know in the comments section below.