Dowry is a nuisance that a large number of Pakistanis suffer from. Pakistani families increasingly grow concern for collecting materials costing a fortune for marrying their children which would not necessarily come into their daily usage. Dowry has succumbed to our culture, it has infected our mindsets and we continue to see problems created at the hands of dowry.
Divorce has become a taboo in Pakistan. Many families and partners suggest against it and try everything in their reach to avoid seeking a divorce. Those who do seek it are still not relieved as they have another bitter pill to swallow. It is none other than recovering possessions given away in dowry.
Lahore High Court has ordered the Government of Punjab to add a new legislation to conclude "dowry items" in the marriage certificate (Nikkahnama)
It is solely been suggested to overcome the miseries and stress Pakistani women have to face recovering their items given in dowry after a successful divorce or separation.
Justice Tariq Ahmad came up with the idea and directed Punjab government regarding it. Justice Tariq observed that there has to be a legal system that would be liable upon marriage concerning everything related to dowry. A proper mention of dowry items in the columns of marriage certificate (Nikkahnama) has to be observed. Women seeking recovery of their possessions need not face obstacles, and this legal step-up, if implemented, ensures the same.
The judge's directive is based on rectifying the social threat to an advancing and progressing Pakistan. It is against the odds leading to oppression of women, marital violence faced by women and financial burdens for their families. This doctrine of dowry has to be removed and shackled beyond the reach of society.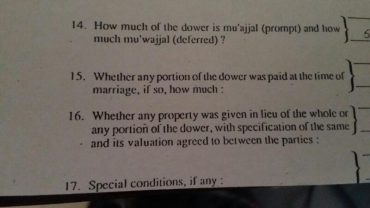 Dowry is alone a menace that our society continues to adopt. Problems concerning it are equally combatant in the progress of a harmonious society that we wish to see in Pakistan. If the courts have to come on grounds of taking steps against it, then let it be because, by all means, these things have to be wiped off of our society.
People can have a proper legal claim if this ruling is passed by the law. It can overcome so many problems that people may not come to realize.
What do you guys think about the directive of Lahore High Court? Do you think it is a right step?