The Pakistani film industry is jam-packed with talent that is impatiently waiting to take the world by storm. Pakistanis saw one of these talents in March with the release of Laal Kabootar. It was one of the most highly appreciated movies of Pakistani cinemas. As soon as it was released people were singing praises of it.
Laal Kabootar is a debut film of the music video director Kamal Khan. With this movie, he has brought a new wave in the Pakistani film industry. And this new wave soared up so high that it is almost close to touching Oscars now!
Ladies and gents some exciting news ahead:

Laal Kabootar has been selected as Pakistan's submission to the Oscars!!!

Something for us all to be proud of as a team. All the sweat and hard work was more than worth it. pic.twitter.com/EYz8aFz6Rn

— Laal Kabootar (@LaalKabootar) September 13, 2019
Pakistani Academy Selection Committee has selected Laal Kabootar as an official entry for the Oscar that would represent Pakistan.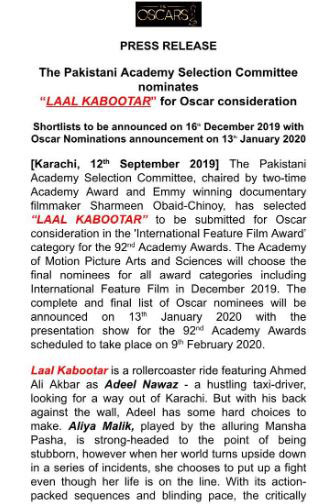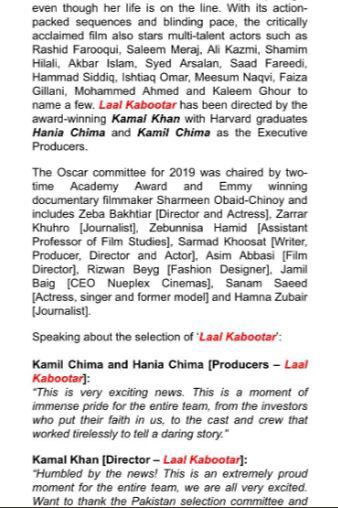 This is not the first movie to be sent for the nomination. In the row, Laal Kabootar is the seventh consecutive entry from PASC to the International Feature Film category.
Also Read: Pakistani Movie Motorcycle Girl To Be Screened At Stanford University
The previous submissions included Meenu Gaur and Farjad Nabi's Zinda Bhaag (2013), Afia Nathaniel's Dukhtar (2014), Jami's Moor (2015), Anjum Shahzad's Mah e Mir (2016), Farhan Alam's Saawan (2017), and Asim Abbasi's Cake (2018).
Lauded By Big Names Of The Industry
It is a dark Pakistani urban crime-thriller filled with action-packed sequences. This movie wasn't just appreciated by masses but also by many of the industry's big names like Humayon Saeed, Mahira Khan, Osman Khalid Butt, and Meera Sethi. The selection committee itself was lead by a very talented jury reportedly including Sarmad Khoosat, Zeba Bakhtiar, Rizwan Beyg, Sanam Saeed, and journalist Hamna Zubair.
Sarmad Khoosat called Laal Kabootar "an authentic representation" of Pakistan's new wave cinema. He further added, "Karachi's raw and fierce beauty has never been shown like this on screen before."
The highly applauded film ever since its release has been critically acclaimed and Pakistani's could very clearly see it be this year's selection for Oscar.
The Impressive Direction and Cinematography
There are multiple reasons that could justify the success of Laal Kabootar. The major area of its success where no one could find a single flaw in is the direction of the movie. Characters are established throughout the movie in a way they should be. The details like the worn-off colors of the wall, Raveena Tandon, Rani Mukherjee, and WWE wrestler Kurt Angle's posters on them, and the low lit rooms, added on to create a realistic atmosphere for the movie. Mo Azmi's stunning cinematography.
The crew of this movie from director to actor has made it one of its only kind in the cinema.
Also Read: The Unbelievable Story: Growth And Expansion Of Pakistani Television And Film Industry
Producer Hania and Kamil Chima were excited to hear the news of their film's selection for Oscar. They were proud for the entire team, from the investors, to the cast and crew that worked tirelessly and dedicatedly played their role in telling a daring story.
However, the skilled director Khan who is compared to Anurag Kashyap for his talent was "humbled by the news". He was also grateful to the Pakistan selection committee and audiences who gave Laal Kabootar "so much love".
Laal Kabootar was for sure an impressive visual experience for everyone. It has made the nation regain their faith in Pakistani cinema.
What are your views about the movie? Share them with us in the comments.