As if there wasn't enough disturbing news in the world already, another one drops by. In a BBC investigation, it was discovered a whole market of online slave-trading on social media existed. This market was operational and slaves were being bought online in this black market.
People have made all kinds of use of social media but this is beyond imagination. Using such open platforms like Instagram and Facebook for an act so disgusting only showcases how dark our society is becoming. The accounts were even using hashtags like "maids for transfer" or "maids for sale" on Instagram.
These accounts offered women for sale as workers. And the workers were being held like captives. Their passports were confiscated and their access to the outer world was limited. Also, they weren't allowed to leave the house. All of them were from poorer countries who came to a more developed country to earn bread but ended up being sold. The owners put their pictures up on a social media platform with the hashtag or on an e-commerce website. After negotiating the price through private messages they were sold at a price.
Actions Taken Against Slave-Trading
After the BBC exposed this sickening slave-trading market to the world, Instagram informed that it has taken a few actions regarding it. It said that the accounts dealing with any such human trading have been removed from Instagram and Facebook. And any further creation of such accounts that promotes human slave trading will be prevented.
The majority of the accounts dealing with domestic workers buying have stopped their operations ever since the BBC exposed their business in its investigation.
This isn't just what happened. But Kuwaiti authorities have gone a step ahead in correcting this ill. The authorities officially summon the owners of these accounts. And the culprits have been directed to take their ads down.
The owners have also been obliged to sign a legal commitment. In this, they have promised to the authorities to not participate in any slave-trading activities any longer.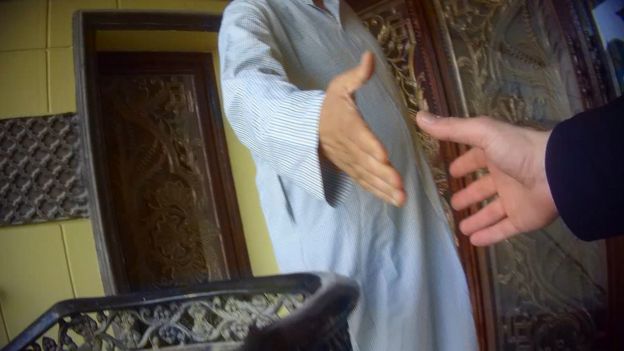 Source: BBC
Head of Kuwait's Public Authority for Manpower, Dr. Mubarak Al-Azimi, said the authority was investigating the woman from the report of BBC who sold a 16-year-old girl Guinean girl using an app. Alongside this, a police officer is also under investigation who was featured in the report. The outcome of the action for the victims could be arrests and compensations as per the say of Mubarak Al-Azmi.
"This is the quintessential example of modern slavery. Here we see a child being sold and traded like chattel, like a piece of property," said UN Special Rapporteur Urmila Bhoola
Kimberley Demands Google And Apple To Take Responsibility
An American international lawyer, Kimberley Motley, who has taken over the case, said that she believes that the compensation for the case should be provided by the app developers as well as possibly Google and Apple.
"On Apple Store, they proclaim that they are responsible for everything that's put on their store. And so our question is, what does that responsibility mean?"
Moreover, she demanded criminal charges against the culprits who were involved in trafficking the 16-year-old to Kuwait.
Google and Apple said actions are being worked out with the app developers to prevent any such illegal activity on these platforms.