Public figures need to be mindful of not just their actions in public but most importantly the words they choose to convey their message across. Pakistani politicians are not entirely well versed with this cardinal rule and allow their emotions to control their tongues. 'Jazbati' is easily the best word to describe most of the Pakistani politicians. PTI's minister Shaukat Ali Yousafzai's insulting remarks on unemployed doctors and engineers weren't received well.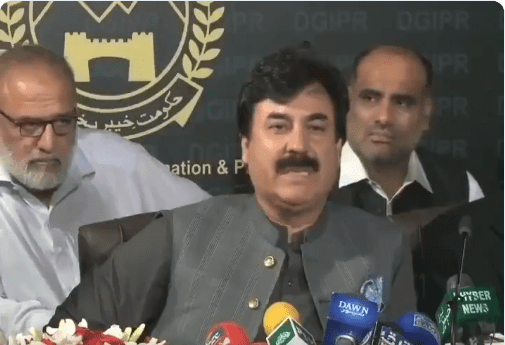 Here's why: He took a jab at unemployed doctors and engineers, saying, "they use to sell pakoras before"
Khyber Pakhtunkhwa Information Minister's video snippet went viral offending engineers and doctors in KPK and Pakistan. Yousafzai boasted about PTI's achievement of creating jobs for more than 5000 doctors; who before their government use to sell pakoras in Khyber Bazaar. To jog the memory, he is the same minister that demanded a luxury car for his visits.
In his own words, "Look, the credit of recruiting so many doctors also goes to PTI… before [our government] all were jobless. Weren't they all used to sell Pakoras… don't you know this? Weren't they used to sell Pakoras in Khyber Bazar… engineers, doctors! By the grace of Almighty, we gave jobs to four to five thousand doctors in one go after coming to power,"
#SaySorryToEngineers
Shameful remarks by @ShoukatAliYousa pic.twitter.com/8GnqMmz3vh

— Engr. Hamid (@pakistanismyjan) October 2, 2019
His remarks were deemed rude and disrespectful by the masses online who demanded an apology starting a trend #SayNoToEngineers on Twitter. His statement at a news conference on Tuesday came after doctors protested against the new legislation.
According to it, the authorities have the power to dismiss the medical practitioners with a simple stroke of a pen. KP doctors angered over minister's 'Pakora Slur', expressed their disappointment over social media and observed 'Pakora Day' as a response.
Doctors and Engineers post pictures with pakoras to slam Yousafzai's remarks and to show pride in their profession.
Senior Doctors and Engineers giving a gentle shup up call to Shukat Yousufzai by celebrating Pakora Day in office, and feeling proud of their profession. #SaySorryToEngineers pic.twitter.com/PCzKMjUw50#SaySorryToEngineers

— Hanief Manzoor Dar (@haniefdar) October 2, 2019
Another doctor happily poses with his plate of pakoray!
Mean a doctor of KTH peshawar is trolling Minister Showcat for his derogatory remarks against doctors and engineers.
"Pakirey walaay pakorraaayyy" #saySorryToDoctors#SaySorryToEngineers pic.twitter.com/F143t9j4eO

— Engr Yousafzai (@EngrAzhaar) October 2, 2019
Engineers don't stay behind after KPK minister's derogatory remarks and unleash their wrath on Twitter under the hashtag #SaySorryToEngineers.
U say trash about engineers and doctors then appologizing to doctors only Not even bothering that u said things about engineers too,Thats because we don't protest? We dnt protest because u all have failed us and nothing will happen.
#SaySorryToEngineers pic.twitter.com/D9DhACsDu8

— FARI (@ifarhatkhan) October 2, 2019
'Doctors and Engineers are the creams of this nation', undoubtedly!
My name is Dr Emaan and I strongly condemn the statement given by Stupid and dumb minister of PTI shaukat Yousafzai about the cream of the Nation Drs and Engineers
For me Pakora bechnay wala is more respectable than Zameer bechnay wala. Donkey minster. #SaySorryToEngineers

— Dr Emaan (@i_EmaanPTI) October 2, 2019
'Just say sorry', demands one engineer, stating that the power of engineers shouldn't be underestimated.
We, Engineers are peaceful among all besides the fact that our rights are stolen by Pakistani institutions including PEC.
A minister came and say "pakoray bachty thay" don't know the power of engineers.if we came out then no one can stop us
Just say sorry.

— Engr. Dil Nawaz (@Sardar_Dilnawaz) October 2, 2019
Creating jobs is nothing to boast about as it comes under their responsibility; neither has anyone the right to belittle a profession(s).
WTF?
You better apologize, you duck head. It's your government responsibility to create job opportunities. If some engineer or doctor is real selling pakoray to make their living, it's you who should be ashamed that because of you gems are wasted.#SaySorryToEngineers
And Doctors

— fiatal férfi(aunt's bday) (@vicious_hoe) October 2, 2019
After an uproar among the Pakistanis, Yousafzai came forth with a clarification.
On his Facebook, he posted, "I never wanted to disrespect doctors as they are extremely respectable to me. I call them 'cream of the nation' and my own son is doctor," Furthermore, he added, "I was talking in this context, but unfortunately a section of media presented my statement as if I wanted to insult doctors. This isn't the case at all," said Shaukat Ali.
The protest that led to this ruckus has been announced by the medical community to be extended further across the province's state-run hospitals. The authorities in Peshawar have shifted 15 doctors and paramedics that were arrested on Friday during the strike, to Mardan Central Jail for one month.
Even if the statement was in response to the doctor's protest, his choice of words was poor. Pakistan has some of the best talent-pool and these two professions include a plethora of hardworking individuals. His statements clearly damaged the sentiments of doctors and engineers, not just in KPK but in the whole of Pakistan.
Have anything to add to the story? Comment below!