There is one thing most of the Pakistani men are always willing to practice and that's exercising their right to have more than one wife. While Quran and Islam does allow Muslim men to marry more than once, it comes with a lot of other requirements which most of the times, the supporters of polygamy forget.
Now the supporters of polygamy also believe that they are 'helping' women by marrying them; they generally hold the view of growing female population which requires more married men to practice their right of marrying unmarried women. Shaukat Ali Yousafzai is no different.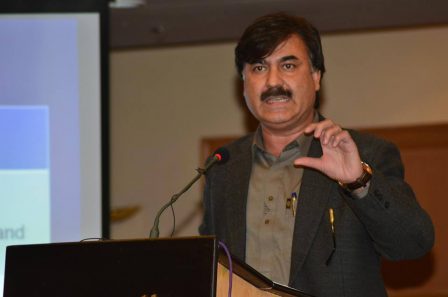 In An Interview At Comedy Show Called 'Mazaaq Raat' Yousafzai Shared That he Is Looking Forward to Getting Married For the THIRD Time
The host, Vasay Chaudhry asked if a busy politician like Yousafzai would find to manage a third wife or not, to which the politician responded on how it is a duty of married Muslim men to save the growing unmarried female population.
"Khawaateen ki population sabse ziyada hai. Aur kawwari khawateen sabse ziyada. Kyun? Kyunke agar hum sab aik aik shaadi karte rahe, tou ye abaadi tou barthi jaye gy."
To this, the host asked Yousafzai on how many children does he already have. The politician replied, "Mere 12 bache hai." and the host then said, "so now do you realize why the population is growing?"
Here's the Clip We Are Talking About
Information Minister KPK hain, 2 Shaadiyaan kar chukay 12 Bachay hain MA aur teesri Shaadi k liye bhi taiyaar hain…. Subhan Allah -'_'- pic.twitter.com/ycaXR4xlzo

— Taimoor Zaman (@taimoorze) October 2, 2018
And This Is the Most Fitting Explanation!
Bizarre how Pakistani polygamists keep repeating the tired, inaccurate cliche that polygamy is justified because 'there are more women than men'.

Men now outnumber women by 70 million globally. In Pakistan, about 51.4% of the population is men. Should we legalize polyandry then? https://t.co/G4Z0vYRoHK

— Ammar Rashid (@AmmarRashidT) October 3, 2018
If men like Yousafzai REALLY want to practice this right, better come with something more concrete than this old, factually wrong statement. Also, someone ask his wives if he really deserves to get married for the third time or not.