Kimonos, all the way from Japan, are taking over the fashion world by a storm. The most trending look of Summer 2014 has been declared to be Kimonos as they have been swept off of shelves as ladies just cannot resist. Why should they, when it hides like nothing else and gives you the versatile look to stand out in a crowd. Coming with no pre requisite at all, any body shape can flaunt it confidently. Kimonos can be paired up with tank tops, as a jacket or a belt can even make it a dress. This trend comes straight from the streets to make your formal or everyday look rather exquisite, it all depends on what you team it up with.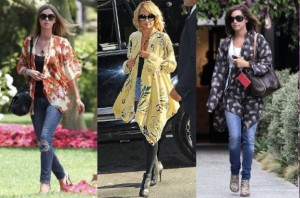 The cherry on top is the plus-size savior as the loose garment hides your curves elegantly, what else could we wish for. Grab a kimono as soon as you see it because they will not last longer on the rack but they are predicted to hide the plus size for the next two seasons, too. They will work like a charm and kimono makeover will turn out to be the best styling decision you ever made.
Read Also: Girls Can't Wear Tights At NTU, Faisalabad!
We have stocked a few pictures for you to get ideas and revamp your wardrobe. On a side note, 'New Look' sells a kimono every second!