During his visit to North Korea, Kim Jong Un showed banned ballistic missiles to Russia's defense minister.
Sergei Shoigu's visit coincides with the 70th anniversary of the conclusion of the Korean War, known as Victory Day in Pyongyang.
He is the first Russian defense minister to visit North Korea since the Soviet Union's collapse.
The trip included Chinese officials, making them the first significant visitors to the hidden state since the coronavirus outbreak.
All three nations are now promising to improve their ties, united by their competition with the unified States.
Kim Jong Showed Banned Ballistic Missiles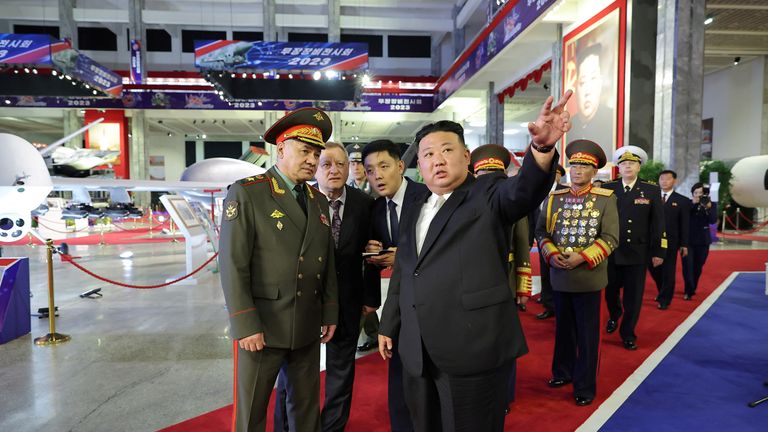 Kim's missiles were banned by UN Security Council resolutions that were first supported by China and Russia.
According to state media, Kim "repeatedly expressed the belief that the Russian army and people would achieve big successes in the struggle for building a powerful country."
While the KCNA news agency did not specifically mention the Ukrainian conflict, North Korean defense minister Kang Sun Nam was quoted as saying he completely supported Moscow's "battle for justice."
Analysts see Kim and Shoigu's tour of ballistic missiles as a significant move, implying that Russia now accepts North Korea's nuclear program.
The visit was regarded as "remarkable" by Ankit Panda of the Carnegie Endowment for International Peace, who added, "We've come a long way from when North Korea would avoid showing off its nuclear capabilities when senior foreign dignitaries from Russia and China were in town."
"The personal tour for Shoigu – and Shoigu's willingness to be photographed with Kim during this tour – shows that Moscow is complacent about North Korea's ongoing nuclear modernization."
Other geopolitical specialists predict Moscow will openly help Pyongyang in the future.
See More: North Korea Threatens To Blow Up White House After Getting 'Clear Evidence'
What do you think of the story? Tell us in the comments section below.