These cute little duos are making people's hearts go awe as they imitate famous Pakistani celebrities' posts to the T. The kids have a dedicated Instagram page where their parents help them dress up and pose as celebrities!
The girl named Amila is from Albania, Europe. At 5 years old, this young diva is being hailed as "Queen of imitations" by social media users. Recreating poses of Pakistani Celebrity couples they are stealing heart left, right, and center.
Recreating Celeb Couple famous pics
One thing is for sure, their parents/photographers sure know how to catch their audience's attention!
Sajal Ali & Ahad Raza Mir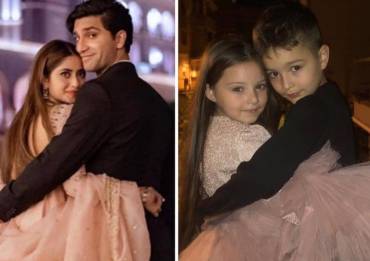 Sajal and Ahad are Pakistani media sweethearts. Loved by everyone it is truly awesome to see this little duo recreating their beautiful memories.
Aiman Khan & Muneeb Butt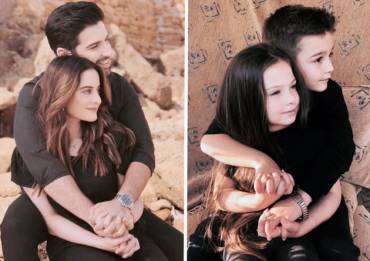 The power couple, Aiman and Muneeb's wedding was a viral feat. While uncountable wedding functions became the talk of the town, these two lovebirds became a household name with their charming personality and acting skills.
Zara Noor Abbas & Asad Siddiqui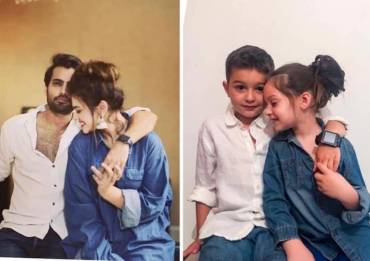 Similarly, Zara and Asad for many are truly #couplegoals! Both belong to families with TV background. Their sweet love story is appreciated by many and fans are always sending love to their fav on-screen & off-screen couple.
Alizeh Shah & Noaman Sami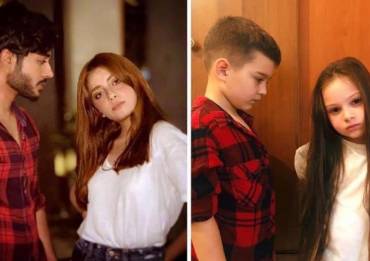 This young couple has amazing chemistry and it shows in their loving social media posts. Moreover, the cute duo can be seen recreating the Celeb couple's much-liked post.
Maya Ali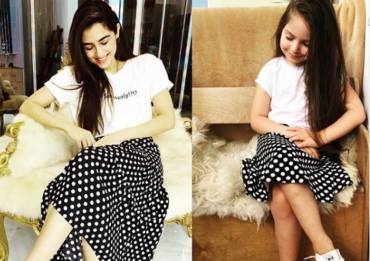 Lastly, who can resist Maya Ali? While the tiny duo recreated only Pakistani celeb couples posts. The young model couldn't resist imitating Maya Ali's comfort oozing picture. Wear an almost identical dress, young Amila sure is giving some major competition to Maya!
Meanwhile, another cute kids' duo has now recreated the much talked about Shehroze Sabzwari and Sadaf Kanwal's recent wedding look.
Shehroze Sabzwari & Sadaf Kanwal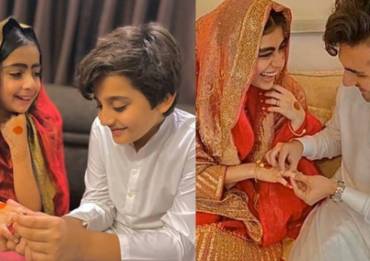 Pakistani kids are also not very far behind. Little Maryam Roy, a young fashion blogger with a dedicated Instagram page just recreated the viral Shehroze & Sadaf wedding photos!
Regardless of the controversies, it is surely a major cute way of wishing any newly wedded couple a happy married life!
In conclusion, these kids are surely going to entertain us with their amazing social media presence and we can't wait to see who they are going to imitate next!
What do you think of this story? Let us know in the comments section below.