For the past three days, a picture has been circulating on social media of a young man who appears to be suffering from Down Syndrome lying on a hospital bed with a pipe attached to his mouth. Claims were being made that he was found on a roadside with his kidney removed, and is now fighting for his life in a hospital. How true is the report?
As per some social media users, the man had been missing for three days. More so, somebody had thrown him on the roadside after removing his kidney. Below is one of the many similar tweets that have been making rounds on the Internet.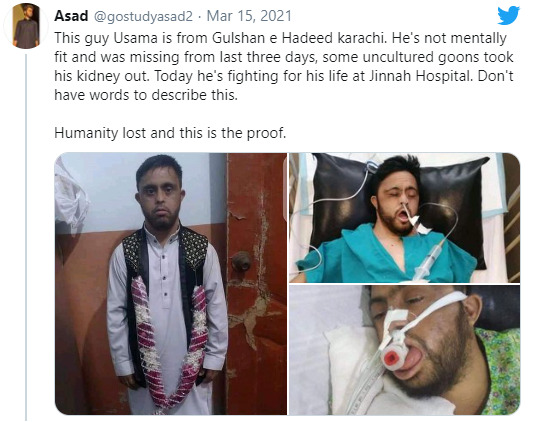 One of the problems in finding out the truth behind the picture was that various social media users had reported the young man from different areas and districts.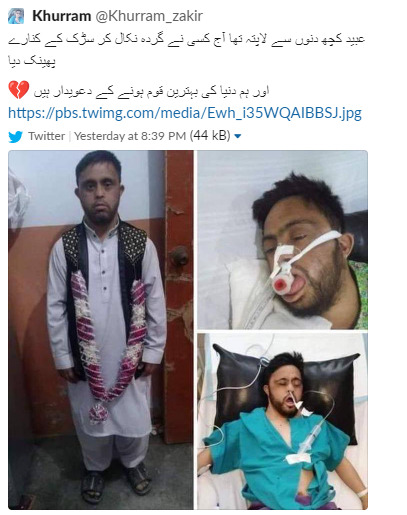 Some said that he belongs to the Dir district of Khyber-Pakhtunkhwa, while most people were saying that he belongs to Abbottabad while someone was saying that he belonged to the Nowshera district. Whereas, according to the above tweet, he belongs to the Gulshan-e-Hadeed area of ​​Karachi and he went missing three days ago.
As per a few social media users, the man in the pictures is now undergoing treatment at Jinnah Hospital. However, it was not clear which Jinnah Hospital they referred to.
The truth unfolds
Since Jinnah Postgraduate Medical Center (JPMC) in Karachi is one of the largest hospitals in the country, Independent Urdu contacted the director of the same hospital, Dr. Seemin Jamali.
Speaking to the publication, Dr. Jamali said it was a complete lie that the young man's kidneys had been removed. She also denied the fact that he had been left in a deserted place. In addition to this, she said that there was no sign of kidney removal on the man's body.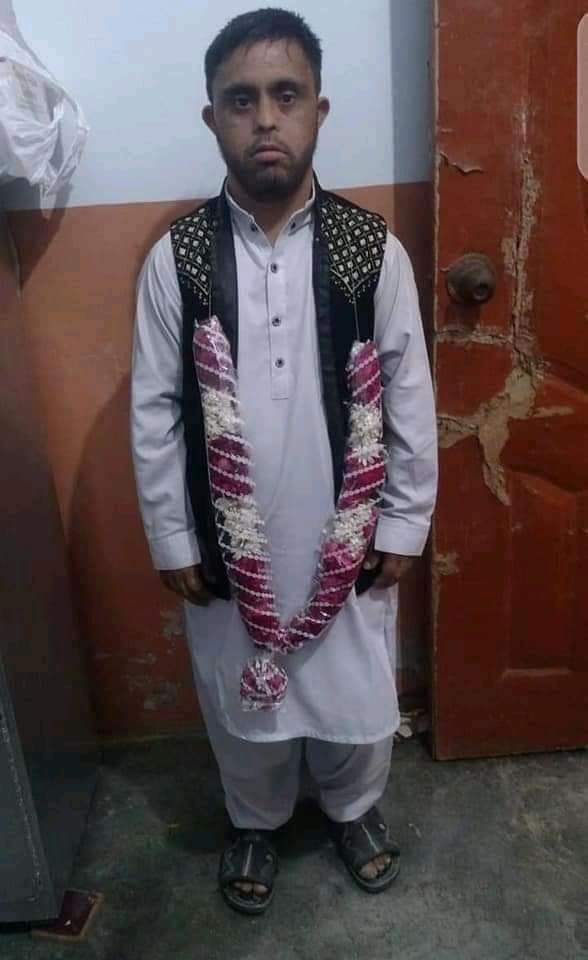 Independent Urdu quoted Dr. Jamali as saying, "In fact, this young man was injured in a road accident and suffered head injuries. He is now being treated in the intensive care unit of Jinnah Hospital."
The renowned doctor revealed that the injured man was unconscious as of now. Moreover, the doctors were trying to save his life. However, due to his head injury, he seemed to be in critical condition.
Earlier, videos were found on social media in which health professionals in Punjab could clearly be seen performing illegal transplants, taking organs from poor Pakistanis (paying them), and transplanting them into patients who are foreigners. Hence, organ trafficking is a serious matter and such cases should not be fabricated!
Story Courtesy: Independent Urdu
What do you think of this story? Let us know in the comments section below.