Just when you think you've seen the best automobiles that Pakistani roads can have, there comes something astonishing that people really desire to own. The thing about a good vehicle is that it always catches the eyes of the public, whether they can afford it or not!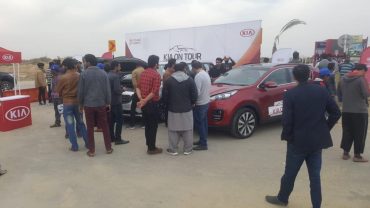 Kia, one of the most seasoned players in the automobile game around the world, looking to restart their production in Pakistan near soon. Last year, we witnessed a wide range of vehicles on roads by Kia in Pakistan. Later on, it was luxurious Grand Carnival and Frontier that braced the roads of Pakistan.
The unique, stylish and innovative designs went as an instant hit with the people of Pakistan, especially for those who desired a vehicle that can indulge the whole family. However, the good news is that Kia has come back with its luxurious Grand Carnival and Sportage SUV. We have been communicated by Kia's presence in multiple cities where they have given unique test drive experience to its customers.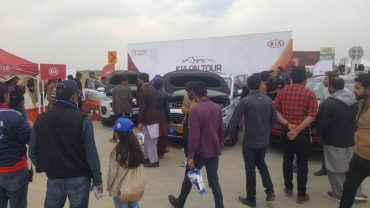 Taking a short trip to Kia's Facebook page, it revealed they were on a tour to different cities of Pakistan and had given test drive experience to thousands of customers along with product information to give first-hand experience to its customers by show casing them how unique Kia cars are. The Major cities they visited were Karachi, Gwadar, Hyderabad, Sukkur, Bahawalpur, Multan, Faisalabad, Lahore, Gujranwala, Sialkot, Peshawar, and Islamabad — touring the whole country
But… the question remains, which car is KIA going to introduce in 2019?
Well, behold, it appears Kia is bringing the stylish-back, yes we're talking about the Sportage, a SUV that you still see on the roads of Pakistan from 10 years back! It seems to be Kia's third vehicle to be launched this year.
Kia is ensuring that their customers can have a first-hand thrilling experience, where they can decide if the new automobiles launched by Kia will meet their expectation, something NO other automobile company offers! The events were open for all car enthusiasts.
Something like this usually doesn't come along, and it serves as a great opportunity to literally try-and-buy. This real-time experience guarantees customer satisfaction and provides exposure to Kia's plans for the future in Pakistan.
The question remains, should customers who are looking to buy an SUV go look at the current choices available or wait until the new Kia Sportage is launched, which guarantees a unique, overwhelming experience. If you take it from us, we say the Sportage will be WORTH THE WAIT!