This is the story of an evil retired teacher and tutor. After reading it, we are sure that your heart will bleed with rage. You would want the high-ups of this country to take action against this beast, killing the souls of innocent children for long.
A tuition teacher in Khairpur was raping his students and filming them and this week, the entire world watched him on social media when he was ruining the life of one such kid.
Retired teacher abusing a boy
On Thursday, horrific images and videos emerged on social media showing a retired teacher and tutor Sarang Shar raping a minor in Khairpur.
The visuals are so graphic that they would leave thinking what a human has become. Reportedly more videos had also viral showing Sarang sexually abusing children.
A case has been registered against him, according to Express Tribune. However, when hearing that the shameful and disgusting stories of his acts have become viral, Sarang has gone underground. He has not been arrested yet till the filing of this report.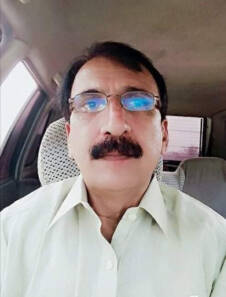 According to the FIR, a victim's father told the police that his 10-year-old son, who studies in Grade 6, had been sexually assaulted by Sarang.
The father has also got the video clip that had gone recently viral on social media, showing his son being raped by Sarang.
"I was horrified to see the video," said the father. He is a driver by profession and hails from Karachi. "A teacher is supposed to build his students' careers but this one destroyed my child's life," he said.
His child has recently joined Sarang's tuition center because his school was closed amid the lockdown.
"My son's school was closed, so I thought it was a good idea to send him to a tuition center instead. But this man is not a teacher, he is an animal."
Entire Pakistan and the kid's father want justice for the victims.
This is a man who raped little children. A teacher who raped his students. This is #SarangShar. Remember his name, remember his face and remember what he did and pray that the fleas of a thousand camels infest his crotch while his arms are handcuffed to prison bars. pic.twitter.com/kHd9OAaKj2

— Aaliya Javed (@Aaliyajaved) July 16, 2020
What has been done against Khairpur's child raping monster yet? @ShahNafisa I see @BBhuttoZardari tweeting about other stuff minutes ago

— Muhammad Junaid (@junaidmuhammadd) July 17, 2020
My heart bled to see pictures, floating around, of a kid being raped. How animal nature of a man to rape a child, filming whole barbaric act and also roping up to a sacred proffesion of a teacher?!!

If our state still not ordering hanging him in public? Then it is DEAD!

— Sameena E. (@SameenaERana) July 17, 2020
#Pathetic– So so Pathetic!
Persons like #SarangShar are indeed threat to our society. At very young age of innocence, we trust our teachers after parents. Raping a child and promoting Child pornography should be strongly condemned. #HangSarangShar

— Payal Raj (@PayalRa27364578) July 16, 2020
A shamefull act done by the Sarang Shar from Thari Mah, District Khairpir who forcefully rapped to his student. These kind of people must be hanged till death at main chowk of city so that remaining can learn a lesson from this.@BBhuttoZardari @MuradAliShahPPP @ImranKhanPTI pic.twitter.com/hMewpzgSRO

— Ghoto Shafeeq (@GhotoShafeeq) July 16, 2020
Reportedly, Sarang is the father of a PTI representative in Khairpur district.
Aslam Shar, Sarang son and PTI Khairpur district vice-president, told The Express Tribune that "I cannot say that the person in the videos or photos is my father," he said (of course). He added, "I am trying to contact them and will provide updates when I get home."
خیرپور میں بچوں کے ساتھ جنسی زیادتی کا واقعہ#sarangshar #ThariMirwah@Dawn_News @Xadeejournalist @ZarrarKhuhro @WusatUllahKhan pic.twitter.com/InNmlosu8U

— ZaraHatKay (@ZaraHatKay_Dawn) July 16, 2020
Child abuse is a serious problem in Pakistan. People on social media are disgusted and seek justice from the government of Pakistan and the judiciary. Earlier in 2020, the National Assembly had passed a landmark resolution for the 'public hanging' of child abusers. After seeing abuse images and videos, one is left to think, should rapists and pedophiles not be hanged?
What do you think of the story? Tell us in the comments section below.