Pakistan woke up on Friday with an ugly yet important story of an evil retired teacher and tutor. After reading about what the old man from Khairpur was doing to his students your heart will bleed with rage. And, that's what exactly happened!
Sarang Shar was raping and filming children for years and no one knew. This week, the entire world watched him on social media in videos and images where he was ruining the life of one such kid.
Retired teacher abusing children
On Thursday, horrific images and videos emerged on social media showing a retired teacher and tutor Sarang Shar raping a minor in Khairpur.
The visuals are so graphic that they would leave thinking what a human has become. Reportedly more videos had also viral showing Sarang sexually abusing children.
People and netizens wanted the high-ups of this country and police to take action against this beast without any delay.
However, when hearing that the shameful and disgusting stories of his acts have become viral, Sarang went underground. The man has been arrested now after evading arrest earlier.
Khairpur Police takes immediate action on an incident of sodomy against two students in Thari Mirwah. Registered FIR and arrested the main culprit Sarang Shar within 24hrs. IGP appreciates the efforts and announces reward of Rs. 200k for the team. pic.twitter.com/Uqjkeu9LUi

— Sindh Police (@sindhpolicedmc) July 17, 2020
Sarang Shar – A child rapist
A case has been registered against him. According to the FIR, a victim's father told the police that his 10-year-old son, who studies in Grade 6, had been sexually assaulted by Sarang.
The father has also got the video clip that had gone recently viral on social media, showing his son being raped by Sarang.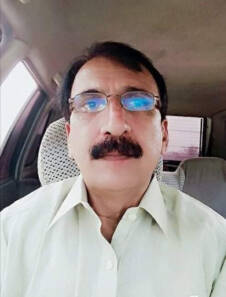 "I was horrified to see the video," said the father. He is a driver by profession and hails from Karachi. "A teacher is supposed to build his students' careers but this one destroyed my child's life," he said.
His child has recently joined Sarang's tuition center because his school was closed amid the lockdown.
"My son's school was closed, so I thought it was a good idea to send him to a tuition center instead. But this man is not a teacher, he is an animal."
This is a man who raped little children. A teacher who raped his students. This is #SarangShar. Remember his name, remember his face and remember what he did and pray that the fleas of a thousand camels infest his crotch while his arms are handcuffed to prison bars. pic.twitter.com/kHd9OAaKj2

— Aaliya Javed (@Aaliyajaved) July 16, 2020
My heart bled to see pictures, floating around, of a kid being raped. How animal nature of a man to rape a child, filming whole barbaric act and also roping up to a sacred proffesion of a teacher?!!

If our state still not ordering hanging him in public? Then it is DEAD!

— Sameena E. (@SameenaERana) July 17, 2020
People of Pakistan want justice for the victims and their families. It is high time, the government must act.
Nothing less than death penalty for child rapist #sarangshar who sexually assaulted and filmed not one but many children in Khairpur, Sindh. This is the only way to ensure it never happens again to any child.

— Sana Jamal (@Sana_Jamal) July 17, 2020
Look at him. He seems to have no remorse! pic.twitter.com/DZoglVF8vH

— azhar khan (@azharkhn4) July 17, 2020
Well-done Sindh Police.
Justice that law is expected to display in this case is punishment that serves the purpose.
Sindh Police is expected to depute most experienced officer for prosecution papers of this high profile case. https://t.co/KxwcdO4C46

— Javed Mahar (@JavedMahar7) July 17, 2020
A picture showing the teacher sodomizing a boy was widely shared on Twitter. All the students who were studying at his tuition center were aged between 10 to 12 years. Child abuse is a serious problem in Pakistan. People and activists are now demanding immediate justice for the victims.
What do you think of the story? Tell us in the comments section below.