While the fashion industry has been making nothing but strides in Pakistan as of recent years, there are many who feel it has blown out of proportion with its massive sales and exhibitions.
Adding onto the views that the fashion world intends to do more damage than harm by emptying people's pockets, was Facebook user Yasir Tanveer. Going to shop from Khaadi with the intent of enjoying the advantages from the 50% off sale, Yasir Tanveer inspected the clothing and the prices, moving from one to another till he realized the incredibly high prices were no coincidence.
"I found more than 10 different articles having double price tags, shockingly high price tags were pasted on the low price tags just to cheat innocent consumers,"  Yasir was claimed to have said, sourced by Dawn, Images.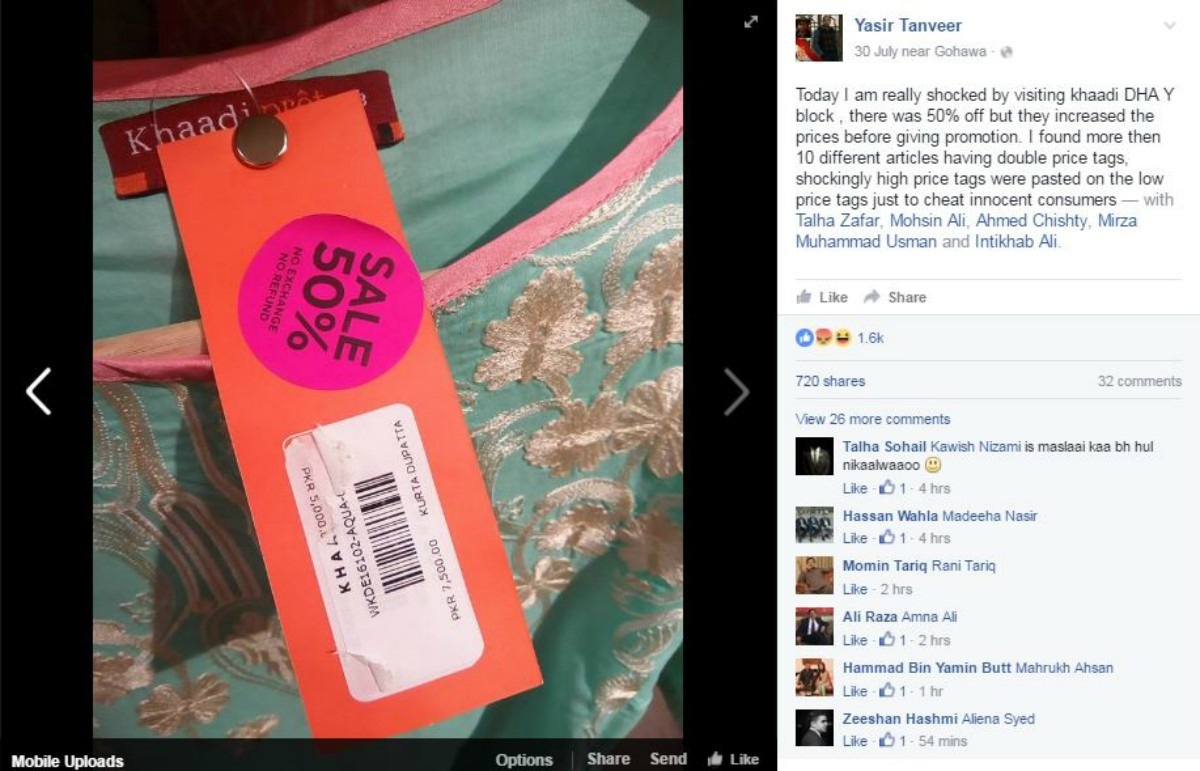 Is this really how business is now being conducted with such official and well-known brands?
Upon the post going viral, management at Khaadi seemed anxious to fix the problem, and reach out to their customers.
Saying it could be classified as retail or factory error, which had led to the items being repriced as they had not been correctly paired with their specified articles first time in, the Head of Sales at Khaadi hastened to clarify issue.
"There are two kinds of products, kurta and kurta dupatta. A kurta is [sold for] Rs 5,000, kurta dupatta for Rs. 7,500. Usually when tagging is done, it's the retail side or the factory side, we're trying to figure out which end made the mistake. We sold more than 200,000 units this weekend, and it was crazy due to the sale. We have spoken to the customer and told him he bought a kurta and dupatta which is Rs. 7,500. We understand that we need to change the complete tag so as to not cause discomfort to the customer."
Khaadi CEO, Shamoon Sultan, added to the statement, "Owing to the high number of units sold in the sale with the same staff strength as regular days, Khaadi should be some given some leeway."
However, customer Yasir Tanveer remained unconvinced.
"I went shopping to Khaadi day before yesterday. I noticed there and then that the outfits I picked out had double price-tags on. I asked a salesman about it and he told me the tags aren't removable, so a new, correct tag was placed on top of the other, incorrect one. He also told me to take it or leave it. I bought the items and came home."
"I was still angry about the incident, so I wrote a Facebook post about it. I didn't anticipate that it'd go so viral, not when meray ghar walay bhhi meray status nahi parhtay (my own family members don't usually read my statuses)."
After Khaadi called up Yasir Tanveer to clarify the situation, Yasir redacted his statement.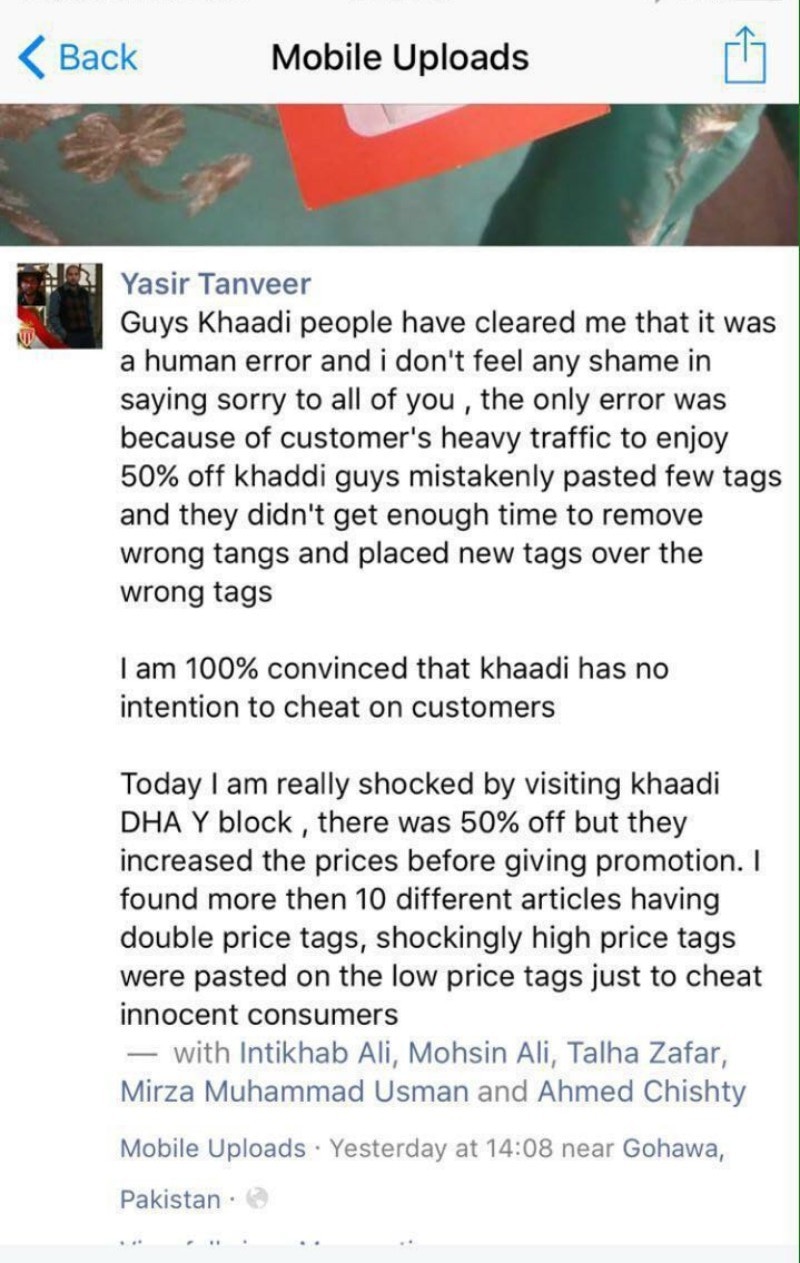 "So I amended my post, apologising to all the people who read and shared my post for the misunderstanding. I had used harsh words for the brand, and I didn't feel any shame in having to apologise for an unintentional mistake of mine."
But that wasn't really the end of it from Yasir's side…
"I'm still wondering how it is that so many outfits were incorrectly tagged, and that all of the underneath tags were of lower price."
While Khaadi has a valid point in re-evaluating their prices based on articles not being paired together correctly, it doesn't explain the 'non-removable' price tag pasted before.
However, with people mostly agreeing with Yasir Tanveer,  it was clear to see Khaadi's expensive pricing has not won many fans.
What the Hell? #khaadi pic.twitter.com/3a1HdLgaka

— Zaara Salar (@ZAhmed_10) August 1, 2016
Would never expect #cheating from business like #Khaadi

Once people lose faith in a business, the business go drain https://t.co/LIGfwCIaao

— Usapzai (@Usapzai) August 1, 2016
#khaadi sale is on to loot us more. Open ur eyes ppl & know the business tactics.There're no free lunches anywhere https://t.co/zEPKCflcBs

— Sana Khan (@sanaakhann) July 31, 2016
Shame on #Khaadi for being petty cheats, this is pathetic and deplorable https://t.co/VhLC7pD1HM

— Hamad Kafeel (@Hamadkafeel) July 31, 2016
Yasir had something to say on people shedding light on the situation and getting all the publicity he did – but people aren't buying it!
Media is maligning #Khaadi ??!
Who publically accused them of "cheating innocent cutomers"? 1/2@etribune pic.twitter.com/GNqukpYTJa

— Zaneera (@ZaneeraMalik) August 1, 2016
I wonder what the #Khaadi spin doctors fed you with. 2/2

— Zaneera (@ZaneeraMalik) August 1, 2016
Here's hoping the retail store works through their issues for better customer servicing and we all get to experience the better part of the sales!