Out of the number of foreign players Pakistanis love based on their appearance and performance in Pakistan Super League, Kevin Pietersen is definitely one of them. Captaining the Quetta Gladiators and giving us one of the finest innings in the league, KP was a feast to watch.
Sadly, Pietersen didn't come to Pakistan in the last two editions of PSL when they were held in the country.
With the major concern being security, Pietersen denied coming to Pakistan both times while various foreign players visited the country this and last year.
While he has retired from all platforms of cricket, KP is currently performing at Indian Premier League (IPL) as a commentator.
On his way over to India, KP shared how two armed officials from the Indian army made his way in and out of the airport easier.
Here's The Picture he Shared
The caption reads, "Through Mumbai airport with ease with these 2 great men!
Kolkata time!
How incredible was last nights opener of the @iplt20?!?!"
Pakistanis were bummed after seeing KP's picture with the security. The major comments revolved around how Pietersen agreed to go to India with security but did not have the same thoughts when it came to visiting Pakistan.
Here's What People Were Commenting on KP's Picture:

LOOOOL

Yes, KP! <3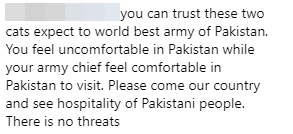 But the Hate Comments Went On and On and One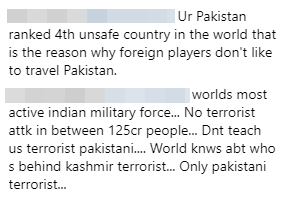 All of the Comments Led to Pietersen Tweeting About It As Well
I'm tanning and on social media.

Twitter – I have a BREXIT argument going on with followers.

Instagram – Indians v Pakistanis arguing over my pic I posted!

This world…?!?!?! ???? pic.twitter.com/qO7ISQuVtF

— Kevin Pietersen? (@KP24) April 8, 2018
Well, Pakistanis would love to see Pietersen visiting our land once, given how we love him just like we love all the foreign players who play for PSL. Hopefully in the next PSL edition when KP takes over the commentary box, we can make him visit Pakistan!