B-town star Katrina Kaif, who wed Vicky Kaushal on December 9, allegedly received expensive wedding gifts from her exes, Salman Khan and Ranbir Kapoor, resulting in hilarious reactions from the internet.
The official wedding announcement came after weeks of intense coverage — practically stalking — by the Indian media. Following weeks of secrecy and NDAs, the couple finally decided to announce the news on their own terms. The wedding was held at a dreamy destination wedding in Rajasthan.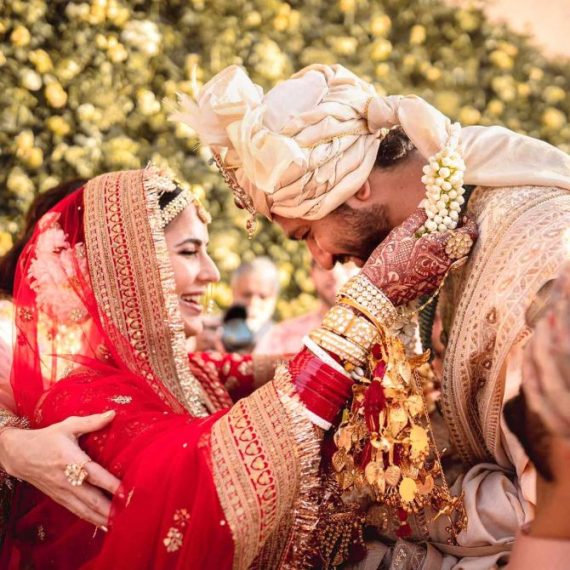 The duo bonded in sacred union in the presence of family members and close friends. Not many celebs from the B-town attended the wedding, but they made sure to send their regards to the newlyweds in the form of gifts.
Kaif and Kaushal are rumored to have been bombarded with some super expensive gifts from their colleagues in the industry. While there is no confirmation yet, the Ajab Prem Ki Ghazab Kahani star received wedding presents worth crores from her alleged exes.
As a wedding gift to Kaif, Salman Khan gave her a brand new Range Rover car worth a staggering 3 crore rupees. Khan is known for giving lavish gifts to those he cares about, and Kaif is one of them. It is no secret that he helped Kaif set up her career in Bollywood.
Ranbir Kapoor, who once dated Kaif and worked with her in several films, did not attend the wedding of his ex-girlfriend. However, the actor made sure to convey his wishes and regards by gifting the bride a diamond necklace worth 2.7 crore rupees.
Twittersphere has a field day
The word on the street spread like wildfire, and the internet was quick to react to it. While many took a jab at their exes and accused them of only giving them "trauma" and "trust issues", others wondered where they could find exes like those of Kaif.
According to Indian media outlets, other Indian celebs also showered Katrina Kaif and Kaushal with wedding gifts. Shah Rukh Khan gifted the newlyweds an expensive painting worth 1.5 lakh rupees.
Hrithik Roshan, who is said to be friends with both Kaif and Kaushal, gave the latter a new BMW G310 R bike worth 3 lakh rupees. Meanwhile, Alia Bhatt gifted a perfume basket worth lakhs to the couple and Anushka Sharma gifted diamond earrings to Kaif.
By the way, the newlyweds did not spend any less on their secret yet big fat wedding. From shelling a whopping 4.5 lakh on a cake to the cost of the bride and groom's wedding rings, find out more about it!
What do you think of this story? Let us know in the comments section below.