The leading human rights body in Srinagar has launched a campaign to spread awareness among international communities about the atrocities that are going on in Jammu and Kashmir.
Jammu Kashmir Coalition of Civil Society (JKCCS) launched the campaign on behalf of the citizens of the area, naming it "Messages from a Blind Spot."
They have collaborated with a creative agency and started this online campaign.
They have created posters with text written in braille script (script for blind people). This is to enlighten the blind world about what the Indian Army is actually doing in Jammu and Kashmir. For those who don't who don't know, this excerpt from the JKCCS website explains it entirely:
"The Indian state has unleashed yet another spell of indiscriminate force on the people of Kashmir, who were mourning the death of a rebel fighter killed on 8th of July, 2016.
To crush the protesters, the state forces have resorted to brutal violence that has left 55+ civilians dead, hundreds blinded with pellet shotguns and thousands grievously injured with live bullet wounds."
 The posters have been designed with these cruel acts in mind: hence the braille.
Each of them has a particular message for the general public: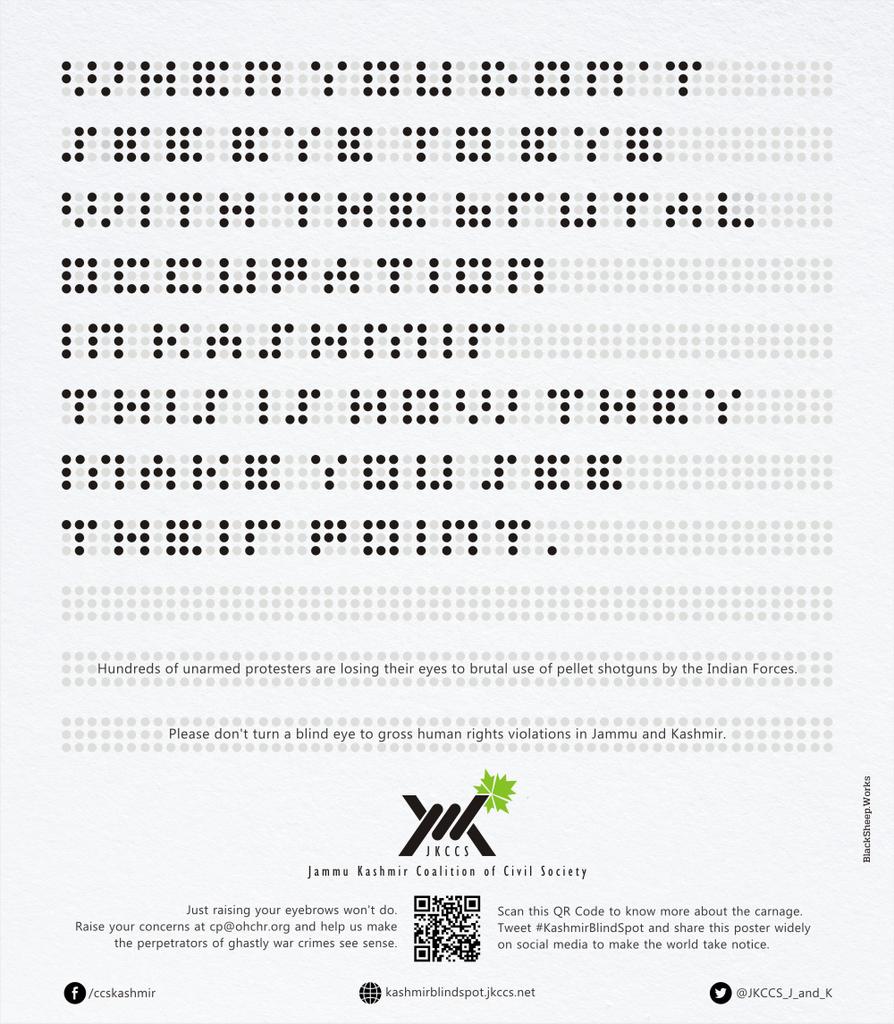 "When you don't see eye to eye with the brutal occupation in Kashmir this is how they make you see their point."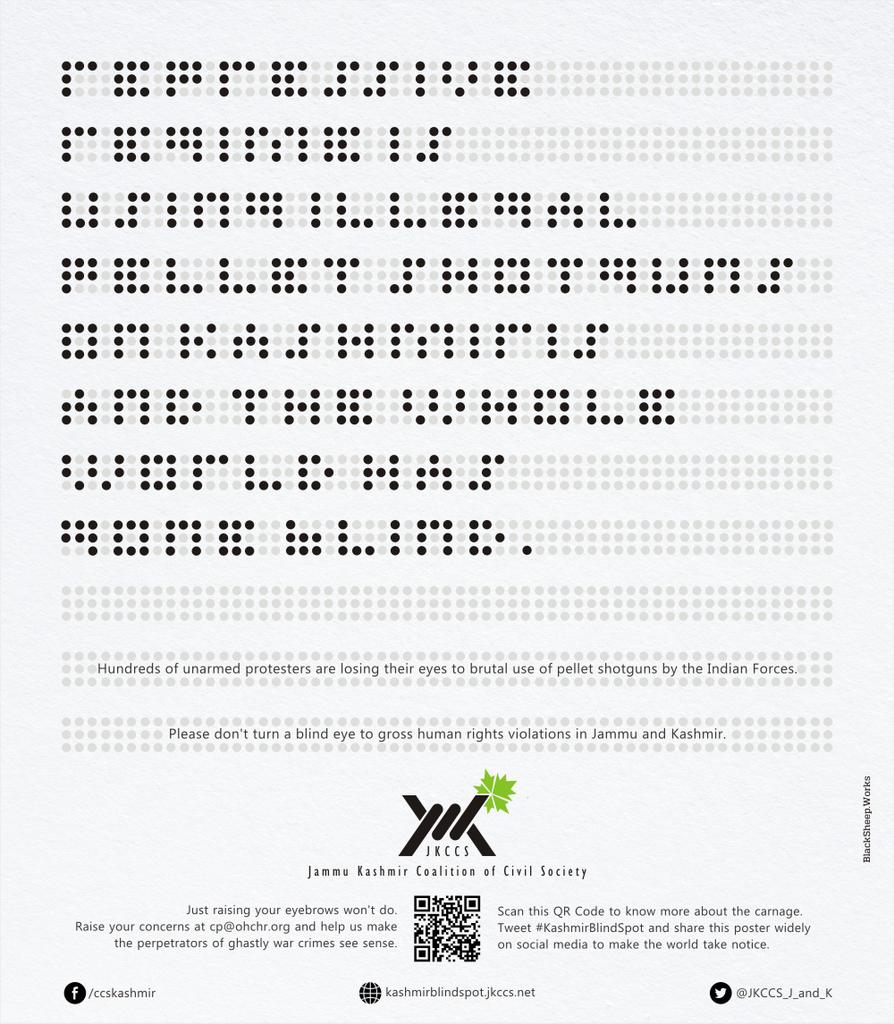 "Repressive regime is using illegal pellet shotguns on Kashmiris and the whole world has gone blind."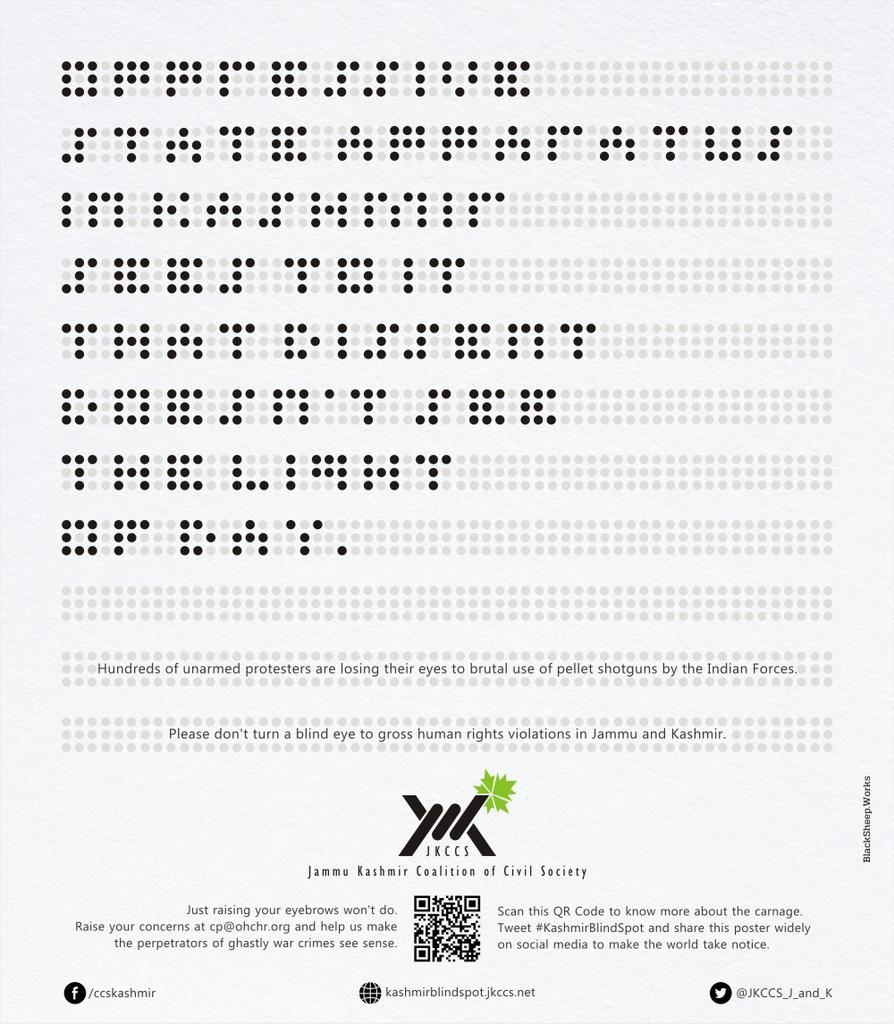 "Offensive state apparatus in Kashmir sees to it that dissent doesn't see the light of day."
These powerful one-liners are enough to make shivers run down your spine. Hopefully, they'll do the same to people all over the globe so that they have no choice but to raise their voice against this injustice.
You can see visit the JKCCS website and view the details of the campaign and more by clicking here. Share this message so that our Kashmiri brothers and sisters stop getting blinded for trying to attain basic rights.