Disclaimer*: The articles shared under 'Your Voice' section are sent to us by contributors and we neither confirm nor deny the authenticity of any facts stated below. Parhlo will not be liable for any false, inaccurate, inappropriate or incomplete information presented on the website. Read our disclaimer.
After witnessing the magnificence of Kashmir, the awe-struck Mughal Emperor Jehangir said, "If there is any paradise on earth, it's here, it's here, it's here". And once you have arrived on this magical land, you will find yourself unable to disagree. Azad Jammu & Kashmir (AJK) is a self-governing administrative division of  Pakistan located at the north of it. It is separated by the Indian occupied state of Jammu & Kashmir through river Neelum.
It took about 3 and a half hours of drive to reach Muzaffarabad, the administrative capital of Azad Kashmir from Islamabad. Muzaffarabad is a small city surrounded by beautiful mountains and has a moderate climate in summers. Also, it is the only place in the entire Neelum valley where you get mobile signals because after the limits of Muzaffarabad the local mobile signals will get seized due to the security reason as the Loc begins. If one wishes to activate their phones then they have to buy a sim card from here that could only be provided through security forces and works throughout the area.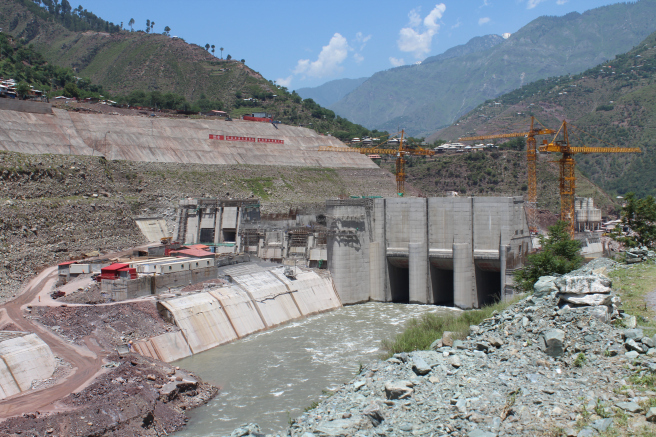 (Picture above: Neelum-Jhelum Hydro Power Plant at 22km South of Muzaffarabad)
From here, starts the tiresome yet mesmerizing journey to Neelum Valley. The time duration to reach the valley varies depending upon your vehicle and road conditions because the roads tend to change due to land sliding or rain in these hilly areas. On an average, it takes about 2.5 to 3 hours of drive. Jeeps are considered the most reliable vehicle to be driven in that mountainous slopey area, otherwise if one wishes to drive their own car then they have to make sure that the tires are in good condition to grip the road well and the engine should be powerful enough to drive through the rough elevated roads, usually the cars with 1300cc engine are powerful enough to do the work.
During your journey, you will also come across several herds of shepherds consisting of 100's of goats throughout the valley. These herds also create great hindrance in the flow of traffic. But the serene beauty of the valley will keep you captivated.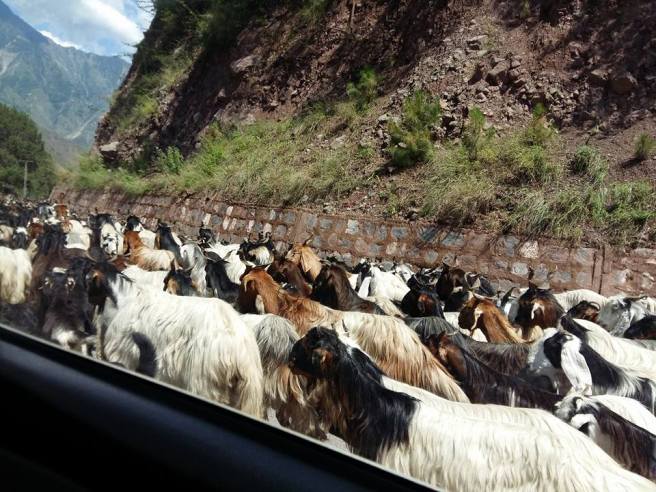 These fellows were a real trouble during the drive
You may also witness several hanging bridges at different spots in the valley. These bridges might seem dangerous to the tourists are one of the most important & reliable means of transportation for the locals. If you feel tired & numb during your drive you can always stop over near these bridges & take the most adventurous stroll across it.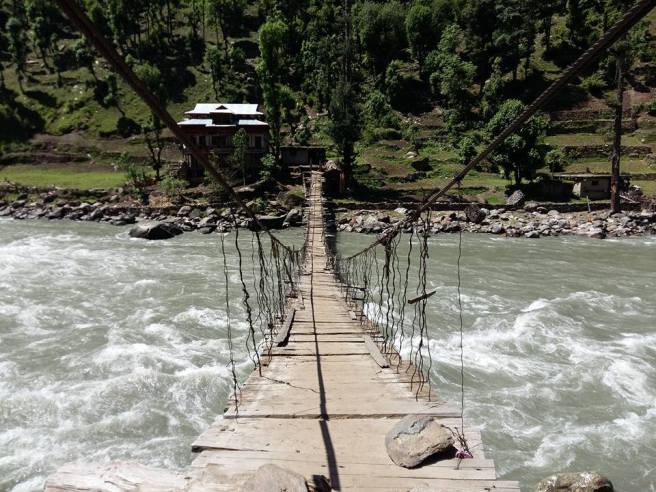 A hanging bridge at River NeelumA view of a Glacier from Neelum Valley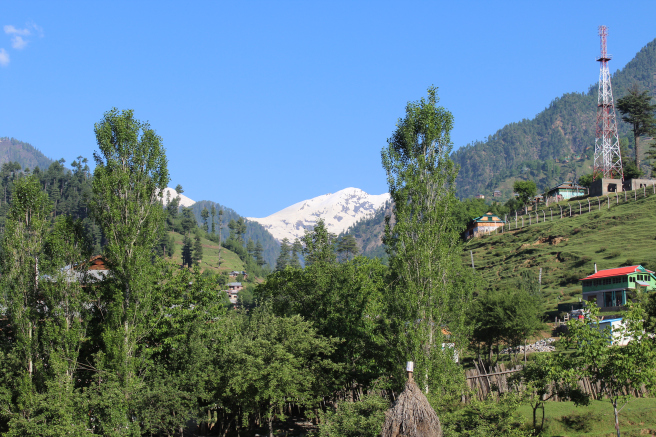 (Picture above: A view of a Glacier from Neelum Valley)
Keran is a small village in lower Neelum valley where tourist prefer to stop because of its uniqueness that its west part lies under the Azad Kashmir whereas, its east part is situated at occupied Kashmir. The river bank at Keran provides you the nearest possible view of the Indian part of Kashmir. This village is famous for its lush green grasslands and typical Kashmiri style houses. There is just a 100m approx. wide river stream that separates the two lands. The distance is so less, that you can actually see the people of other side doing their everyday chores very easily.
One of the worth mentioning incidents happened on our way back from Keran when we stopped at a spot to take some pictures. Meanwhile, a car of some tourist family was also stopped at the other side of the border. Spotting us, a guy who was standing out waved in a very friendly manner and as we waved him back, all of the other members of the family got out of their car and waved at us with cheer and joy. The joy and happiness that we had felt at that moment was enough to make us realize that if politics is kept aside the people of both sides shares feelings of respect and cordiality with each other.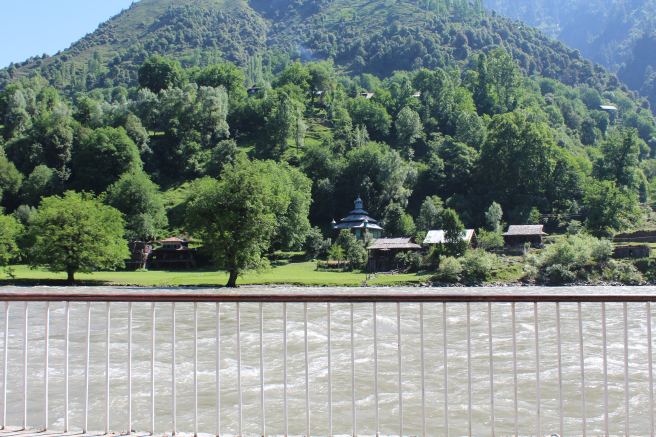 (Picture above: View of Indian Occupied Side of Keran)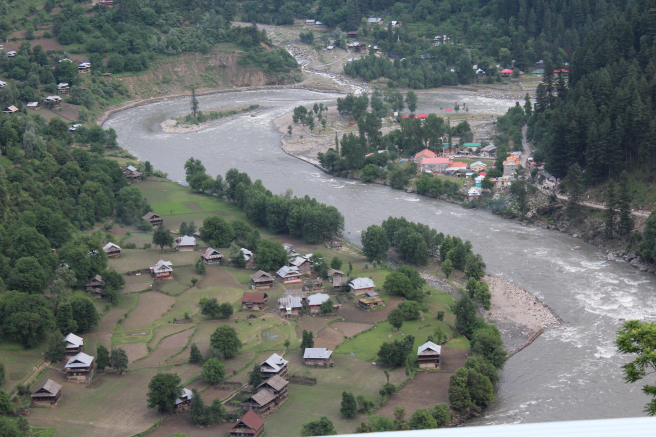 (Picture above: The two sides of Kashmir separated by River Neelum)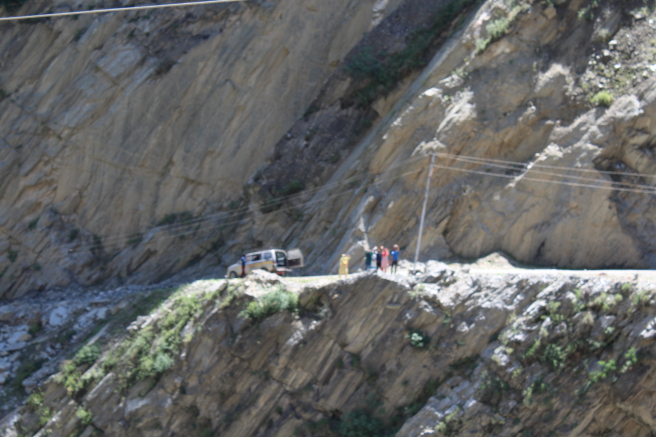 (Picture above: Indian tourists waving at us from their side)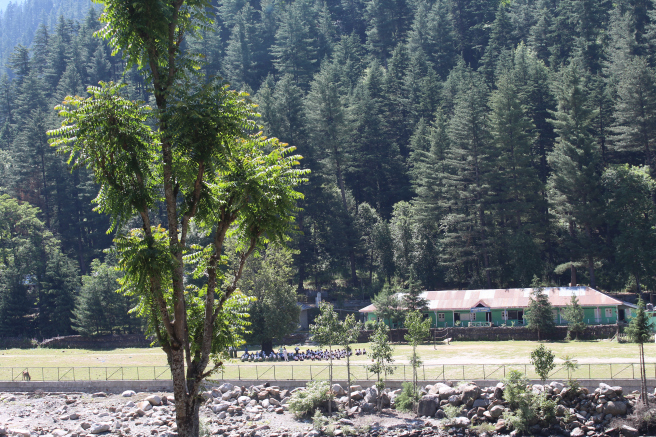 (Picture above: A school at Keran)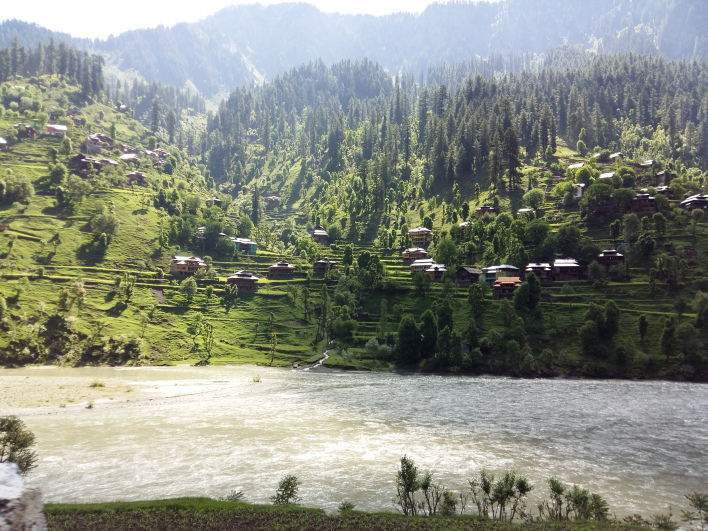 I wish I would own any one of these.
From Keran, you head towards Sharda which is a small town situated at a distance of about 25.5 km from Keran and is famous for the ancient Sharda university which's ruins are still present here. Sharda had been the most important center of earning for Hindus & Buddhist for centuries.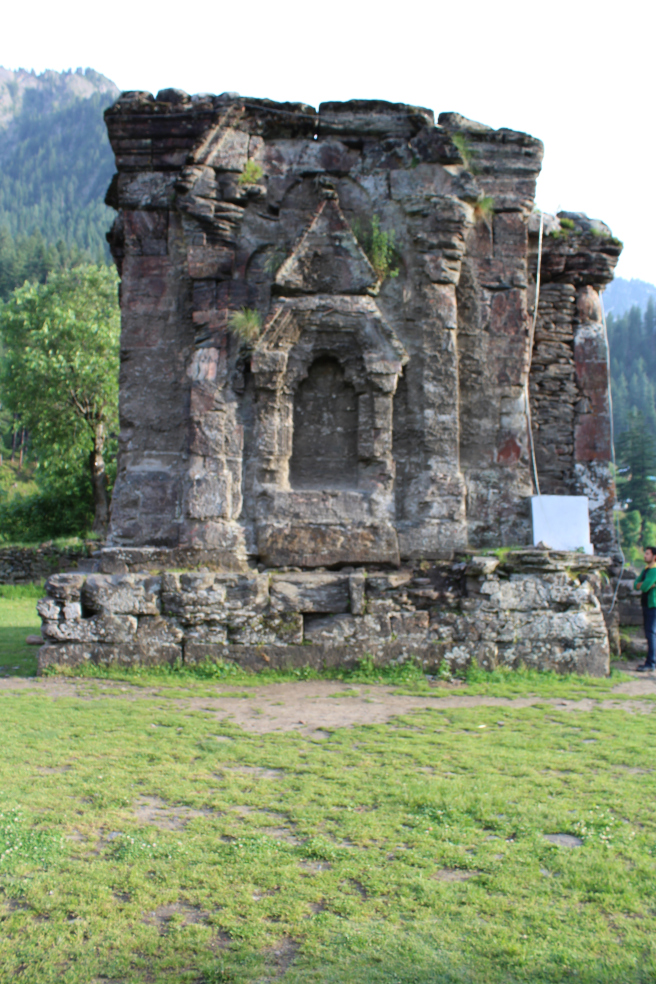 (Picture above: Ruins of Sharda University)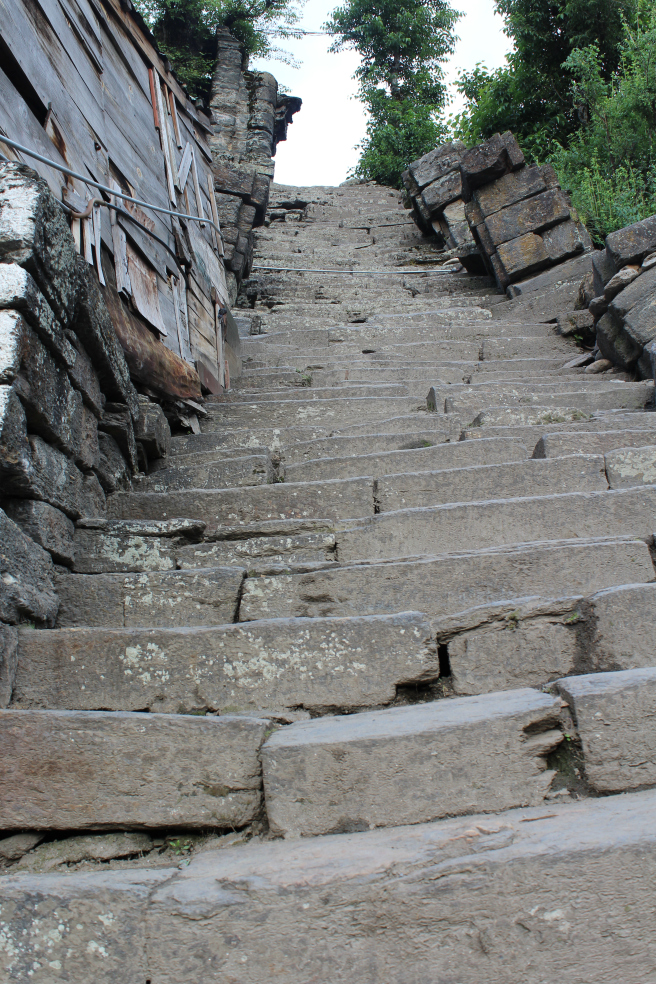 (Picture above: A set of high-rise staircase to Sharda University)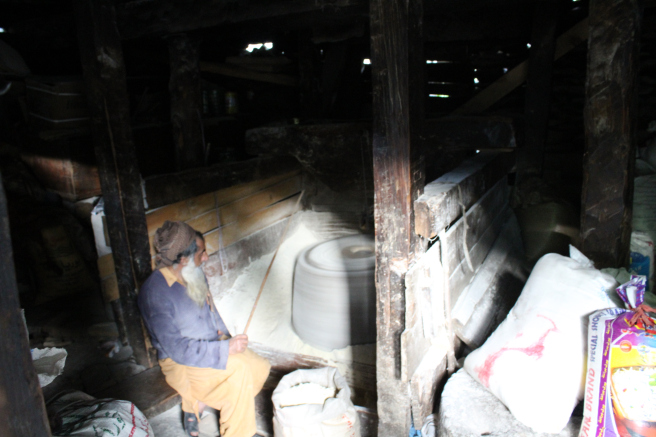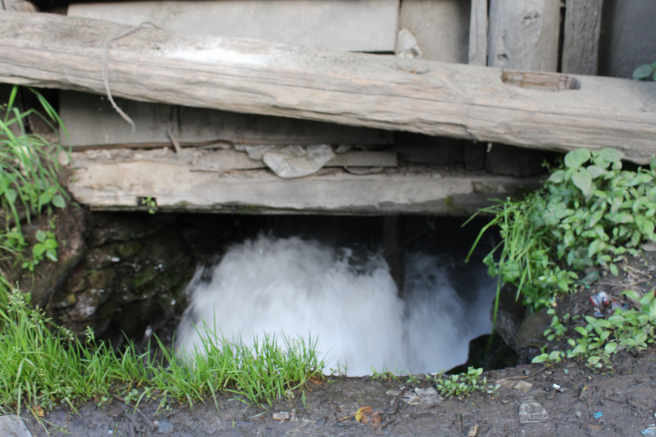 (Picture above: A water-mill at Sharda)
After Sharda the most tourist sought out spot is Kel which is a small village situated at about 21 km from Sharda and near to the LOC.Kel is famous for its main bazaar and guest lodges where tourist stays. The main bazaar fulfills the needs of all the locals that live in Kel or in the small villages situated around Kel. From here tourist uses to take either of the two routes to reach Arang Kel a small village located at upper side of Kel and famous for its lush green landscape and white snow-capped mountains.
The first route is through the chairlift that took you across the river Neelum in a minute and then there's a 30-minute trekking upwards. The trek though tiring is also an amazing experience for those who want to add some adventure to their trip. The second way to reach Arang Kel is about 2 hours trekking from Kel but this might be difficult for the first-timers. But once you reach atop all your hard work & sweating (even in a chilly weather) will be paid off by the most exotic visions of mother nature which you will adore for the rest of your lifetime.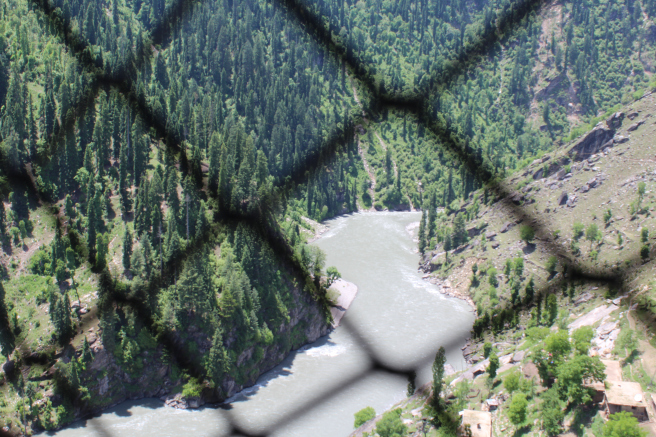 (Picture above: A view of River Neelum from a chairlift)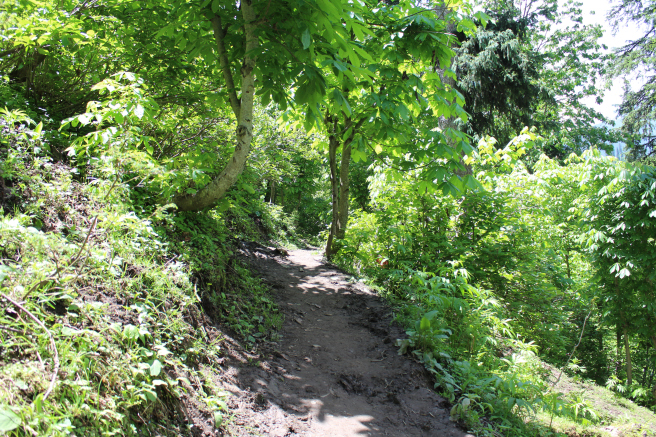 (Picture above: Trek to Arang Kel)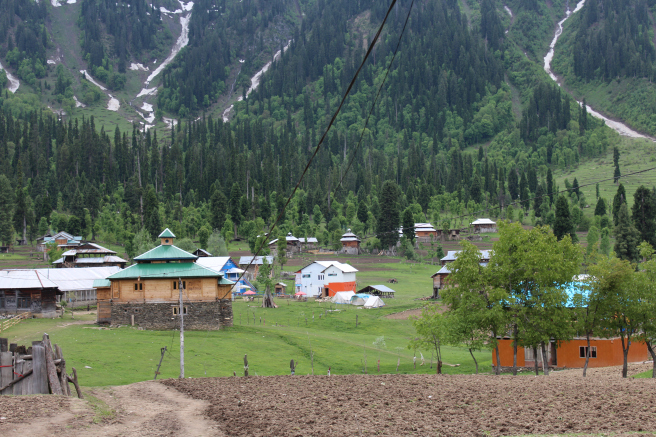 (Picture above: Some Views at Arang Kel)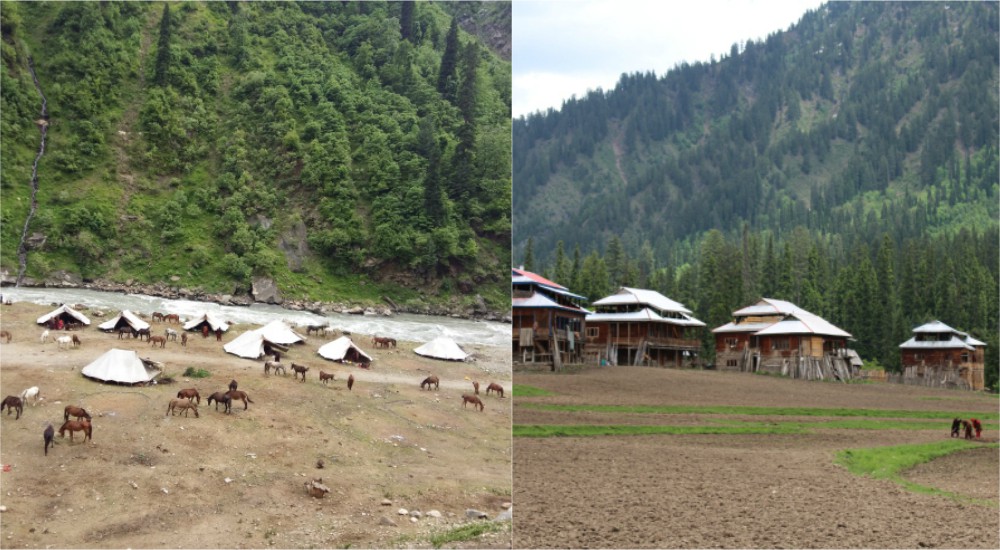 (Picture above: Tents of Nomads at Kel)
The journey throughout the Neelum valley is a trail of vivid scenes and the feeling of absolute bliss. Some days spent here are sufficient to keep you motivated for rest of the year. Pakistan is blessed with the most picturesque landscapes in the world. The only thing needed is the construction of good infrastructure and a proper arrangement for the cleanliness of these areas. Because throughout our journey, apart from the serenity of mother nature, we have also witnessed the sheer ignorance of the mankind.
Especially at the busiest tourist spots, one can easily spot piles of garbage standing next to the flowing water contaminating the land and polluting the river giving you the illusion as if you're standing at some slum area of a metro. Tourists should also take this responsibility in their hands and refrain themselves and their fellows from throwing garbage here and there. Because nothing is more heart-wrenching than watching these wonderful pieces of lands burying under the waste.
Read Also: You Need To See Why Azad Kashmir Is A Heaven On The Face Of This Earth!