A suspected robber looting a citizen was caught and foiled by local residents in Karachi. The incident occurred in the Shah Faisal Colony. Karachittes teach the street criminal a lesson whose robbery attempt to snatch the motorcycle miserably failed on Tuesday.
Over the past few months, many cases of snatching motorcycles have occurred. Law and order are still not satisfactory in Karachi. It is pertinent to mention that criminal activities including motorcycle theft and snatching have risen to record levels in the city. Especially ever since the COVID-19 pandemic took over.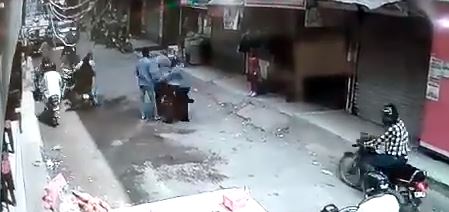 Every now and then, videos of robbers looting some innocent citizens in broad daylight. Well, this time, it is the other way around as the victim has become a hero after retaliating with the snatcher.
According to the recent incident which was captured on CCTV camera and shared on social media, four men on three motorcycles intercepted a motorist near Shama Shopping Centre in Shah Faisal Colony and snatched the two-wheeler from him.
While one robber was caught, the other managed to run away. As soon as the two muggers tried to run away, the victim grabbed one of them who was trying to take away his vehicle.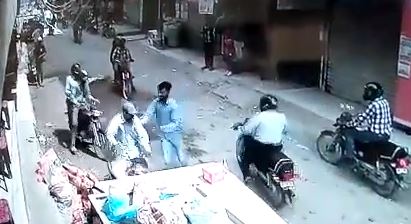 The footage shows one of the accomplices on the vehicle opening fire on the people grabbing the accused. Meanwhile, a local who was present on the spot hit a block on the head of the accused. He injured him while the three others managed to escape from the spot. Moreover, a few men can be seen hitting, and kicking the robber brutally.
Here is the CCTV footage
The citizens reported the incident to the police who reached the spot and arrested the injured accused after teaching him a good lesson.
The incidences of bike theft have topped the list of street crimes reported in Karachi city since last year. Sadly, this is neither the first case and nor will it be the last. The increasing crime rate these days is certainly alarming.  Previously also these brave citizens beat up a street criminal as his attempt to rob failed.
This shows the failure of law enforcement agencies. In addition to this, such incidences depict the failure of the state which is also responsible for the violence that takes place when people take law into their own hands. Why must citizens risk their lives? Why can't they provide better security conditions to the masses?
Last year, a bunch of street criminals thrashed an old lady in Karachi during a snatching attempt and the CCTV footage was brutal.
What do you think of this story? Let us know in the comments section below.