Disclaimer*: The articles shared under 'Your Voice' section are sent to us by contributors and we neither confirm nor deny the authenticity of any facts stated below. Parhlo will not be liable for any false, inaccurate, inappropriate or incomplete information presented on the website. Read our disclaimer.
There are two kinds of Karachiites; those who went bankrupt eating at KarachiEat, and those who couldn't afford more than the entry fee of the festival.
Just the idea of the food festival itself makes one appreciate the initiative, but despite pulling a successful event for three years, KarachiEat unfortunately only caters to the needs of the high-profile elites.
If you disagree with the above statement, try to put yourself in the situation stated below;
You are the bread winner of the house. You have 4 children. You also have a maid to assist and a wife of course. Let's not forget your own parents. So in order to gain entry to the festival, you need at least Rs 2250? Okay, fair enough. But you're yet to pay for all the food your kids will ask you to buy and for the rest of the family. Eventually, the budget exceeds to Rs 4000-5000. Get real, you call this reasonable? If yes, try earning this amount in a day.

source:karachista
The purpose of a food festival is to celebrate diversity of food and feed as many people as possible. I have witnessed families coming all the way through the traffic to Frere Hall in a Rickshaw and going back because of the unreasonable entry fee. I have seen people watching others eat, spend hundreds on food and just cold drink cans, while they just stand contemplating which stall serves the most quantity in the cheapest rates.
Overheard at the festival;
''Two chillos for Rs 120, but it's Vintage so it's worth it!''
''Foodpanda se ek ek karkay coupons le ao, aesay he sub kha saktay hain''
''Olpers par kuch free mil raha hai, wahan chalo!''
''Yaar, puray do hazaar kab khatam hoye pata he nahi chala!''

source:facebook
KarachiEat was not all that bad afterall. Shan, National Foods and Olpers decided to stand out by giving off free or low cost food for the locals. Although the site of the locals was fairly rare at the festival, the only seen were no wonder spotted around these stalls only.
It was a great night out with friends and family, with good music, pleasant weather and good food yes. But the point I'm trying to make is, what percentage of Karachites actually got to benefit from this festival? I have no doubts when I say, hardly 15%.
Despite the popularity and unprecedented success, if KarachiEat can accommodate people for free next year, I am sure the event will serve its real purpose; eat, eat and repeat!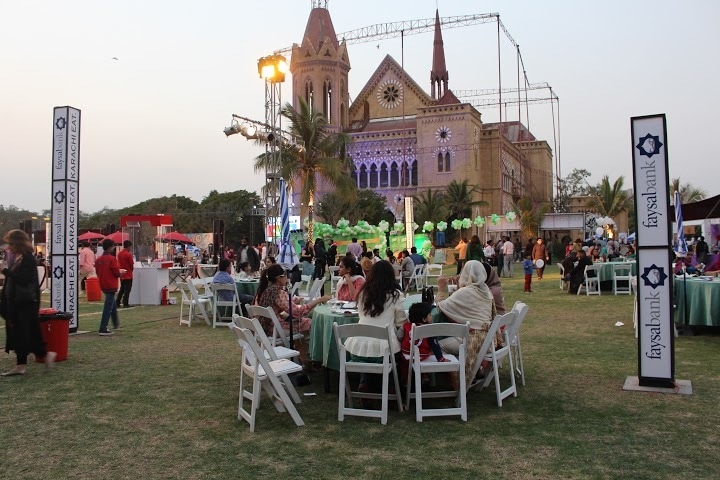 source:dawn
Verdict: KarachiKhao or KarachiLagao?