In a world where the rich are getting richer and the poor, poorer, we are witnessing a massive gap between social classes, that at least in Pakistan will soon be divided into two; Elite and poor abolishing the middle class considering the economic situations of the country. Unfortunately, there is a massive indifference among people where they lack the empathy to assist the needy and underprivileged.
Let's take the basic right 'education' as an example. Everyone has the right to a good education but sadly, the children of a poor man do not get the chance to enroll in a school, instead, they take up odd jobs supporting their families at a tender young age.
 Areebah Uqaili, A Lady From Karachi Has Taken This Generous Task Upon Herself Of Providing Free Education To The Maids And Called Out To Everyone That Has Hired One To Send Them To Her. 
A noble move by Areebah who is asking everyone to send their servants or their children to her house where she would teach them from 5-7 PM, following a proper syllabus. Not only this, but she is also willing to provide them pick and drop facility which shows the strength of her resolve including her determination to educate women and children.
This is something everyone who has the financial ability to hire servants can do in their spare time. A little contribution teaching someone how to read and write can go a long way, maybe not so much for the person providing but would definitely add great value to the poor on the receiving end.
Her Facebook Post Reads: 
Hey everyone!
I'm teaching maids and their children or anyone who doesn't have access to education; for free.
I am also willing to provide pick and drop services. Please send YOUR maids (I know most of us are privileged enough to have one) and their children especially if you live in the vicinity. I do not disclose my address usually but I have done so in order to encourage people to message me and contribute to this cause. Give them a one-two hour break for their basic right!
I live in Gulshan, Karachi and my timings are from 5:00 to 7:00. I have a proper syllabus that I follow.
There will also be a special public speaking class held from 7:00 to 7:45. I have remained a part of the debating circuit for 5 years now and have also remained the Vice President of Public Speaking society at my school. So if you want anyone to get enrolled in that, do let me know as well.
Kindly, feel free to spread the word and send your servants and anyone else you know.
Inbox for more details.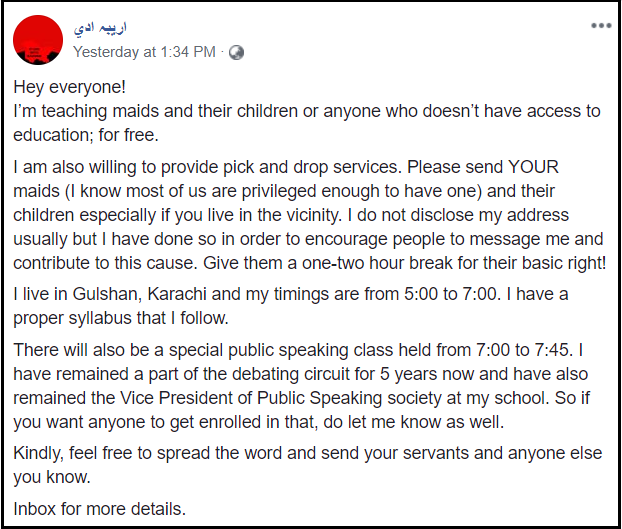 In Another Post, She Said:
I know most of us are privileged enough to have maids so please think about their basic rights and contribution towards humanity. Give them a one-two hour break. I'm also willing to provide pick and drop.
Please share as much as possible and send YOUR maids and their children especially if you live in the vicinity.

Also Read: An Islamabad School Is Giving Islamic Teachings To Transgenders And It's Beautiful!
Let's further Areebah's vision by contributing in whatever capacity we can, even if it is by sharing this post or sending your house help to her. We definitely need more people like her and team Parhlo wishes her all the best in this endeavor. May you change several lives.
Great isn't it? Share your sentiments in the comment section below!