Altaf Hussain, the leader of Muttahida Qaumi Movement (MQM) said that no one can prevent MQM from raising their voice on the concerns of the underprivileged masses of Pakistan. Altaf Hussain said that MQM will by no means quit striving for the rights of the people of Sindh.
Altaf Hussain said: "I want to free the less privileged Sindhis from the chains of viciousness and bullying of feudal lords."
While speaking to the MQM Zonal Committee members and other party officials at MQM Hyderabad Zonal Office on phone, the MQM leader Altaf Hussain said that he wants to free the poor Sindhi farmers and laborers from the control of spiteful feudal lords and that is the reason why feudal lords of Sindh are inciting the Sindhis against the leadership of MQM. Altaf Hussain added that there is no one who could stop him from striving for Sindhis' rights.
Altaf Hussain said that he formed MQM after looking at the level of unfairness with the immigrants but he later understood that the entire system of Pakistan is corrupted and has become a victim of feudatory in which the only parameter of respect was wealth. Altaf Hussain said that justice was only reserved for the wealthy while the poor citizens were forced to live a B class life. Altaf Hussain stated that in spite of all the propaganda against him, Sindhi brothers have never stopped supporting him.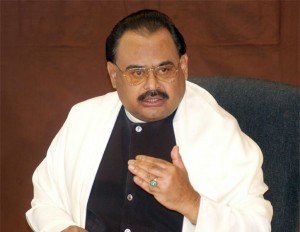 On Sunday, Muttahida Qaumi Movement (MQM) announced that it will break its ties with the PPP led Sindh government and this decision will not be negotiated as its leader Altaf Hussain was subjected to an 'unwarranted' criticism and allegations.
The deputy convener of MQM Rabitta Committee, Khalid Maqbool, while talking to media said none of the workers of MQM will ever be ready for any type of compromise when it comes to its Quaid Altaf Hussain's honour.
Khalid Maqbool further added that MQM was converted into Muttahida Qaumi Movement from Mohajir Qaumi Movement before the year 1997, but this does not mean that the party members will let it go that easily when a Mohajir is called names.
He added that after hate ridden speech of Bilawal Bhutto Zardari on Saturday, there is no point left for MQM to stay in collision with PPP led Sindh government. Bilawal Bhutto Zardari made Altaf Hussain a target of baseless criticism on Eidul Azha, saying that he would make his life miserable.
Khalid Maqbool of MQM said it is ironic that Bilawal Bhutto Zardari failed to make the lives of his mother's killers miserable. He added that democracy and feudalism can't go hand in hand and feudalism can never be productive for a country.
He said that MQM will never back out from its demand for the creation of new provinces in Pakistan. He also said that Bilawal Bhutto Zardari has turned politics into business.  "We ask Bilawal Zardari on what basis he has become the Chairman of People's Party," he said, adding, if Bilawal speaks of inheritance, even then a true heir of a Bhutto can only be a Bhutto and not a Zardari.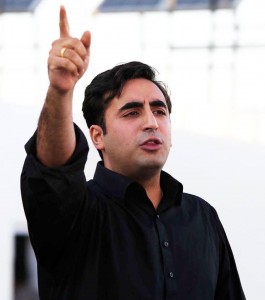 Bilawal Bhutto Zardari brutally criticized MQM and Altaf Hussain in his speech saying that MQM has been ruling Karachi for the past 2 decades and the condition of the city since then has not been hidden from anyone. It's Pakistan People's Party only which can change the system and help in rebuild Karachi.
He also accused that MQM won the elections in Karachi through rigging and they will make sure that rigging free elections take place in Karachi in 2018 so that Karachi sees its true independence.
Bilawal Bhutto Zardari chanted: 'Yeh Shehar Karachi Bhutto Ka', 'Yeh Shehar Karachi Bhutto Ka' and invited other parties to join hands with them and work for the betterment and prosperity of Karachi.