Over the past few months, many cases of mobile snatching and robbery have occurred. Law and order are still not satisfactory in Karachi. In a petrifying incident on Tuesday, robbers shoot a father while he saves his minor daughter in the metropolis' Korangi area.
A CCTV footage later revealed that the robbers fled after shooting the father and left the poor girl sobbing miserably.
The deceased, identified as Tahir, was riding a motorcycle along with his daughter when the street criminals on a motorcycle surrounded them in Allahwala Town of Korangi.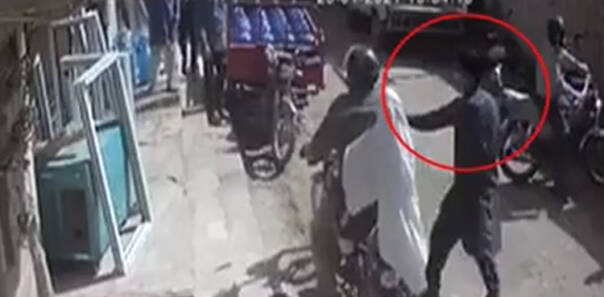 The CCTV footage showed the criminals trying to stop the citizens' motorcycle on the road to loot the valuables. Later, they shot fire at the man's leg over resistance.
Subsequent to going through the terrifying act by the armed robbers, the daughter was seen tearing up while sitting alongside her wounded father. It must be noted that before being shot by the robbers, the father was seen trying to save his daughter.
According to the police, the wounded citizen received a bullet in the leg. The injured father was immediately given medical treatment. By good fortune, his health condition is out of danger now.
Here is the CCTV footage of the horrifying incident
As of now, the culprits have not been arrested yet. As per official statistics, almost 25 civilians have been injured while resisting robberies in Karachi this month.
It is pertinent to mention here that criminal activities including motorcycle theft and snatching have risen to record levels in the city ever since the COVID-19 pandemic took over. Every now and then, videos of robbers looting some innocent citizens in broad daylight. This shows the failure of law enforcement agencies.
Sadly, this is neither the first case and nor will it be the last. The increasing crime rate these days is certainly alarming. Previously, a group of robbers went viral for snatching meat from shops along with the present cash.
Earlier, a suspected robber in looting a citizen near Power House Chowrangi of Surjani Town was caught and tortured by local residents, whereas, his accomplice managed to flee from the scene. The Karachiites thrashed the criminal whose attempt to snatch the bike and mobile failed.
What do you think of this story? Let us know in the comments section below.