While there may be a lot of issues in Karachi, one thing is for certain. Karachities will never disappoint you in times of need! As COVID-19's terror grips the nations with its ugly claws, many facilities like, fuel, edibles, and other necessities are difficult to find.
Similarly, a guy posted on social media asking for help as he was out of fuel due to the COVID-19 lockdown. He posted a query asking for the availability of fuel around the City.
On Facebook, he wrote, " Guys any idea which petrol pump is open right now? It's a medical emergency."
While Abdullah Sajid Sheikh may have expected quick responses, he may have never realized he would get such humbling responses!
As soon as he posted people from different areas of Karachi flooded his post with quick helpful responses. While someone guided him to places where fuel might be available, others went the extra mile and offered their cars for the noble cause!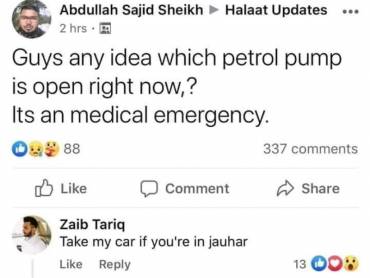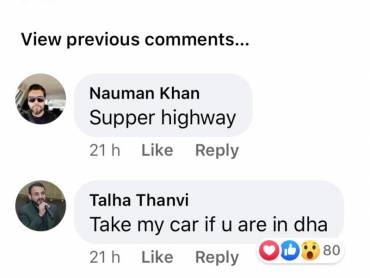 These positive responses were like a breath of fresh air amid all the viral scare. People did not even hesitate to offer their assets at the time of need.
Twitter lauds such heartwarming responses
Twitterati tweeted praises for Karachiites for being ever-present to help another in such uncertain times. It is truly inspiring to see such passion showed by the youth, not only for those they known but even for those that they don't.
Karachi Karachi hai ❤️❤️❤️ pic.twitter.com/NbXxg1tiBc

— anastipu (@teepusahab) June 5, 2020
❤️❤️❤️❤️❤️ my city, my Karachi

— Sumbal Naqi (@ssnaqi) June 5, 2020
i wish i could thank them in person for being kind. i read something positive after a very long time. THANKYOU for existing guys🌸

— rose (@imahnoornawaz) June 6, 2020
These r the things to learn from ♥️
Pakistanis r the best nation world have !

— Usama Qureshi (@QureshiSahbb) June 5, 2020
Great hospitality Karachi. Great Nation Great Country

— Wajid Ali (@WajidAl07029278) June 6, 2020
City of Edhi The Great

— محمد فاروق M Farooq (@paara95) June 6, 2020
We laud the locals who volunteered their services to a stranger at the time of need. Such positivity is what is needed at these times when from everwhere else the nation is gripped with the unwanted negativity and skepticism.
What do you think of this story? Let us know in the comments section below.